Software Platform
Our open source platform enables new, ethical supply networks.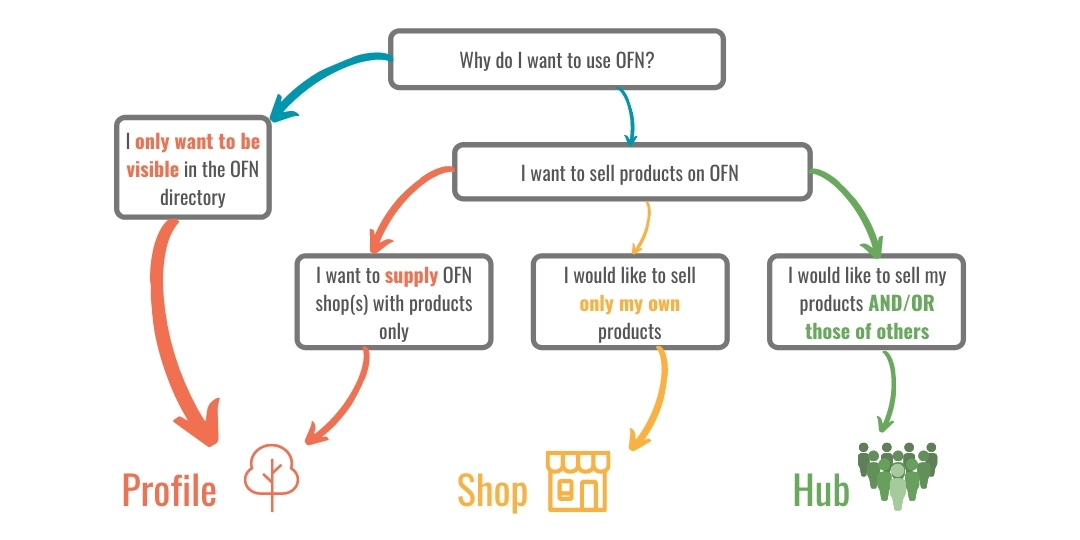 Software designed for food
The Open Food Network software platform allows farmers to sell produce online, at a price that works for them. It has been built specifically for selling food so it can handle tricky measures or stock levels that only food has – a dozen eggs, a bunch of parsley, and a whole chicken that varies in weight, anyone?
Easy and affordable to get started
There are no upfront costs and affordable membership fees only apply to monthly revenue of $500 or more which means you can start where you are and get setup quickly.
Great customer support
Our dedicated customer support team is embedded in your food system and understands your needs. We are here to help.
Collaboration made easy
It's a great shopfront to sell food through as an individual enterprise, but where it really gets exciting is when there's a community of farmers working together.
Food producers can create an online shop, collect payments, and sell through other shops on the platform. Wholesalers can integrate with existing systems, manage buying groups and supply your produce through national or regional networks of food hubs and shops. Communities can bring together producers in your area to create a virtual farmers' market, building a resilient local food economy.
People have used the power of this platform to create food collectives, manage food hub stock, or to take their farmers' market online with pre-purchases to give stallholders more secure sales.
Maintain transparency and demonstrate good practice
Our platform makes it easy to connect with your network and sell your products on another shopfront and vice versa while maintaining transparency and control over produce and income.
Shoppers can get to know their producers and food hubs, learn about farming and enterprise practices, social objectives and see their money supporting local livelihoods.
Open source for a better food system
And what's just as important as the software itself, are the values that underpin it. If you're trying to build a new food system – as a farmer, farmers' market, or food hub – then why would you choose software that isn't also contributing to a fairer food system? By working collectively rather than competitively, we share the costs of developing new software, and we ensure that our project is more resilient than the many other proprietary models that have fallen over since we started!
Community supported software
Open Food Network is community supported software. We exist to support community food enterprises, and we are a not-for-profit organisation working to build a better food system. Our community members are our partners in this work. Check out how our pricing works and choose your membership level.
Features
The Open Food Network is powerful software that helps people sell online, and collaborate to build regional food systems. You may not need all of its features, but there are plenty to choose from!

An online shopfront
At its most simple, the Open Food Network gives you an e-commerce solution designed specifically for food. It can handle multiple order cycles per week with different delivery or pricing options, subscriptions, and more.

your business, your branding
You can share your story, social media links, and upload photos of your own products.

Collaborate with others
Where Open Food Network gets exciting is when you work with others. We can help you aggregate from multiple producers through one online shopfront, or enable you to sell to multiple shopfronts.

integrate and automate
Open Food Network can integrate with other systems such as Xero and Mailchimp, and we can set up automations that make your life easier.
monitor and understand
Monitoring your sales data can help you evaluate products, marketing, and more.  

reduce your admin
Open Food Network allows you to easily update your stock based on what you've produced. It can generate reports, packing slips, and help you avoid a tangle of spreadsheets! 
Open Food Network Case Studies
Can we help?
Have an idea, a project or a question? Want help using the Open Food Network software?  Get in touch and find out how we can help you with it.

Secure and trusted.
Open Food Network uses SSL encryption (2048 bit RSA) everywhere to keep your shopping and payment information private. Our servers do not store your credit card details and payments are processed by PCI-compliant services.
Create a listing, shop or group directory on the Open Food Network. Tell me more!

Read our Terms and conditions | Find us on GitHub
Open Food Network is a free and open source software platform. Our content is licensed with CC BY-SA 3.0 and our code with AGPL 3.
We take good care of your data. See our cookies policy
Open Food Network respectfully acknowledges the traditional custodians of the unceded lands on which we meet, work and live. We pay our respects to their Elders, past, present and emerging and acknowledge their deep spiritual relationship to country.