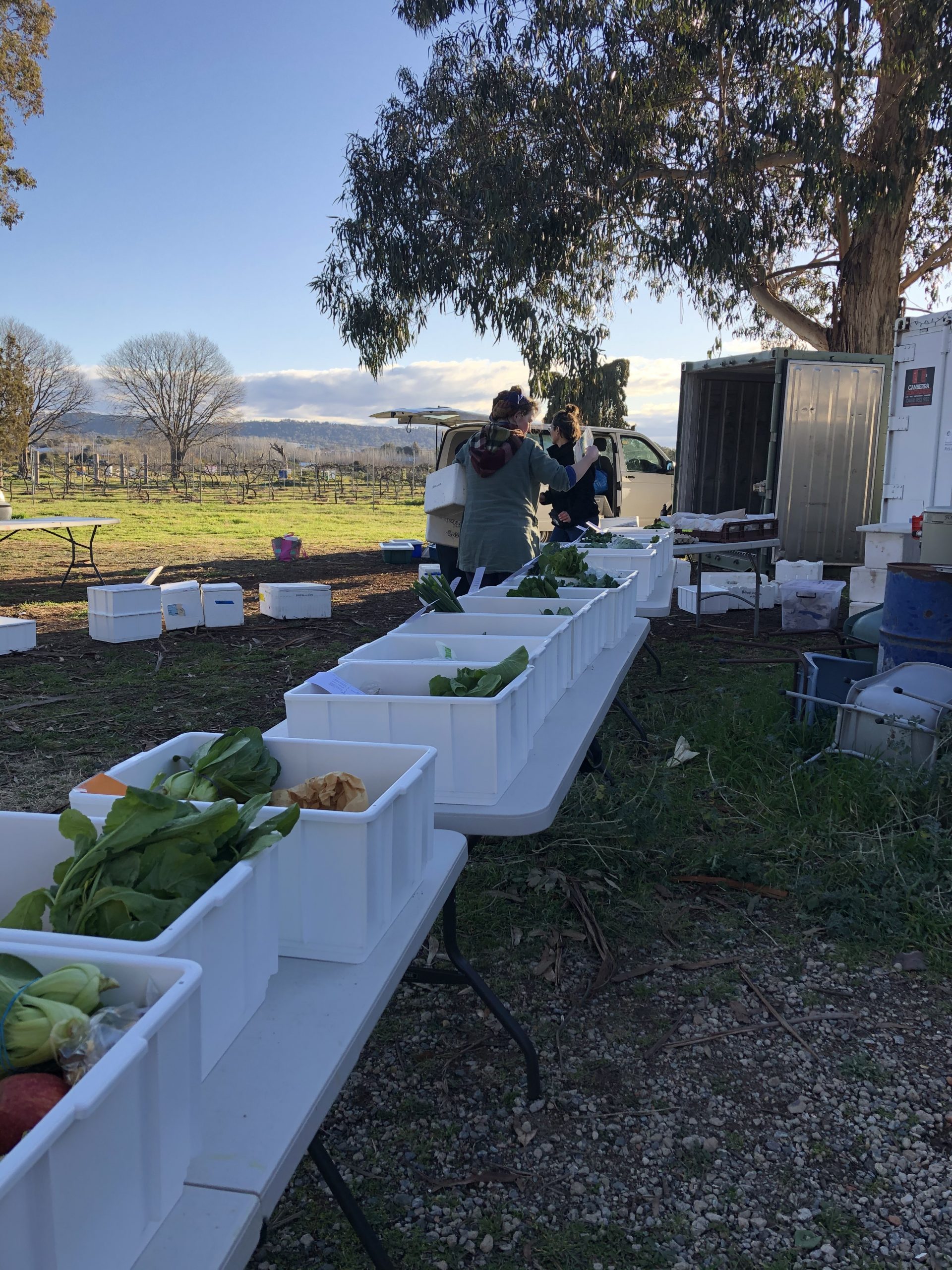 Southern Harvest was established in 2011 as a conduit between farmers and consumers in South East NSW and the ACT. Through the Southern Harvest Farmers' Market, and the provision of food boxes, they act as a networking and marketing food association for local farmers and consumers in the region. Both of these activities depend on a team of dedicated volunteers, who receive fresh produce as thanks for all the hard work they do.
"Since the start of COVID-19, a huge challenge that our food enterprise has faced is the doubling of workload. Our produce box scheme bounced from 70 to 115 subscribers in the first month of the pandemic, and the changing workplace restrictions pushed us to adapt our model. We moved our market stall online through the OFN, and adapted our packing process to fit the stringent hygiene standards. This increased workload pushed us to expand our volunteer base from 4-5, to about 16-20 volunteers each week. 
In spite of these challenges, COVID-19 led to the strengthening of community amongst our volunteers and customers. It was amazing to see our volunteer base quadruple when we reached out for help, many of whom did not claim their free food box compensation as they just wanted to help keep the scheme running. In addition, we had a lot of positive feedback from our existing customers, many of whom had friends facing empty supermarket shelves. Our customers happily advocated for us and their local farmers, saying "Look at us, we're fine, because we've been investing in local food for a while now." That was really important for us to hear. 
In addition, COVID-19 has provided a huge opportunity, in that our community and reach have expanded. The pandemic, and subsequent food-related shock, made community members more aware of their local food systems, causing some to reevaluate how they purchase their essential needs. Many of these new customers were people who were already tipping in that direction, and the shock felt by COVID-19 was the necessary push. When joining our food enterprise, we ask new subscribers to invest in our program, which helps finance facilities that are available to our farmers and producers, whilst providing them with a safeguard. As a result, we expect that almost all of these new subscribers will remain a part of our community well into the future."
Read more about how Community Food Enterprises adapted to COVID-19 in our report, Recipes for Resilience
Can we help?
Have an idea, a project or a question? Want help using the Open Food Network software?  Get in touch and find out how we can help you with it.
Create a listing, shop or group directory on the Open Food Network. Tell me more!

Read our Terms and conditions | Find us on GitHub
Open Food Network is a free and open source software platform. Our content is licensed with CC BY-SA 3.0 and our code with AGPL 3.
We take good care of your data. See our cookies policy
Open Food Network respectfully acknowledges the traditional custodians of the unceded lands on which we meet, work and live. We pay our respects to their Elders, past, present and emerging and acknowledge their deep spiritual relationship to country.