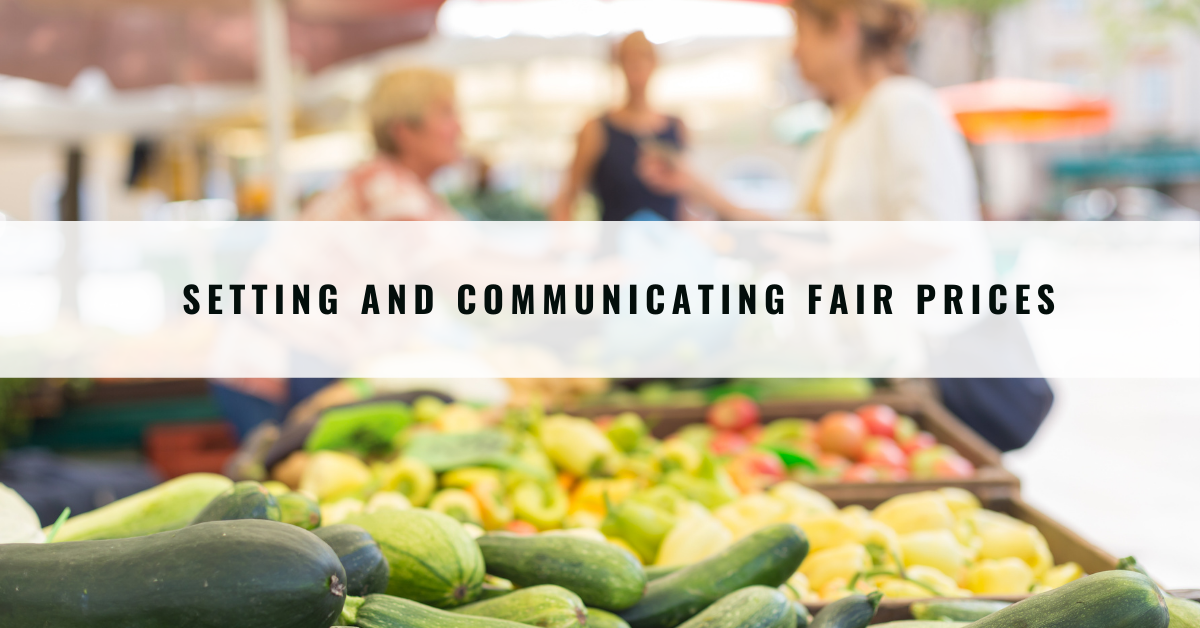 Event Three Insights 
It is with much gratitude that we thank Jen Rae and Sally Beattie from Fawkner Commons, and Lydia Mofakhami, Regional Food Activator from Open Food Network for joining us as guest speakers and sharing their amazing insights.
Fawkner Commons
Background:
Established in 2020, growing and adapting in response to community needs during the COVID-19 pandemic

Food distribution hub in Fawkner

Main operation is aggregating, boxing and distributing food boxes to the community

Originally operating out of Fawkner Bowling Club, now distributing from Fawkner Primary School

(Also looking into how to convert their residential house into a food hub!)
Approach:
Fawkner Commons aim to create food literacy, and an understanding with customers that their pricing centres relationships with people who grow food, and people who consume it

Use a tiered pricing method for "food with dignity"

Those who can afford to pay supplement the food offerings for others

Food boxes are either 100% subsidised (free), 50% subsidised, or not subsidised (for those who can afford to pay)

Don't use the phrase "food relief" – just colour code the boxes (so no one knows who is paying or not)

Food boxes are subsidised in a number of ways:

Optional purchases "Pay It Forward" bundles by people ordering food boxes 

Profits from "Small Batch" products, prepared by chefs who have donated their time

Profits from a "pay as you feel" scheme on "Hump Day Takeaway", where hot meals were available on box pick-up days

Relationships within the community (e.g. bread donated from local bakeries)

Community grants
Tools:
Developing an online platform for "food with dignity" model through

Open Food Network

Using a square reader, and a combination of Xero, Excel and Open Food Network to monitor ins and outs and give them an idea of how many food boxes they can support
Lydia Mofakhami
Background:
Open Food Network's Regional Food Activation Officer for Gippsland

Working with Baw Baw Food Hub

Background in retail and inventory management

Currently farming lambs and organic fruit
Approach:
"Not-for-profits aren't in it to make money, but we can't afford to lose money"

The importance of understanding

true costs

is critical for a resilient and sustainable enterprise, particularly when considering growth

The cost of your inputs is not the true cost of your product

E.g. If you're buying oats in bulk for a $50/20kg bag, this is not the true cost 

True cost

= $50/20kg x consumables needed to repackage (paper bags, labels,  cost of labour involved in weighing and repackaging) x holding cost of product (if you're selling non-perishable goods)

There's a lot to be gained if you can hit a peak price point, and engineer your production to that particular timing

This may require more inputs, so you need to work out what the true outcome of costs is, and if it's viable and sustainable

Prices are volatile depending on timing within a season, so if you can manipulate supply and demand to fill the market for longer (in less volume, in a more consistent way)

Need to be as transparent as possible to maintain trust and credibility with producers and consumers

Must be able to explain why your price point is where it is

Connectivity is vital for people to understand what that purchase price means

E.g. Telling growers stories, having producers come into the hub

Be aware of future requirements as your enterprise grows (e.g. when you'll have to start factoring in GST)
Notes from group discussion:
Fawkner Commons:
Model was developed during lockdown,  so there wasn't a lot of face-to-face interaction

This mean that their narrative was really strong, told online and through word-of-mouth – people knew they were supporting their own community

In-person (e.g. farm gate) models might have different benefits and challenges 

Now partnering with

Citizen Information & Support

, who will refer customers to Fawkner Commons

Allows other needs to be met (i.e. non-food), and reduces the administrative burden for Fawkner Commons

Need to be adaptive around the capacity of food producers and distributors, and maintaining relationships

Checking in and asking where businesses are at, and if they need another avenue for distribution

In crises, you're more likely to be helped by members of your own community than government services

This is a part of the narrative they've been communicating

Sweet Water Foundation

where Jen drew some of her learnings

Looking at: What happens when food systems gentrify neighbourhoods?

Recognise the importance of celebrating diversity in all of its forms, and ensuring that cultural producers aren't pushed out

Want to empower the voices of the community that are here

now

Fawkner Commons works to make sure there's ownership by the community who live here 
Data is a currency

Fawkner Commons have developed a PDF that has all of their data, that they give to partners
Further Resources
Online Guides:
Healthy Profit A simple guide to pricing the food you make or grow
Local Food Cost Calculator SCALE developed a tool that more accurately determines the real cost difference when buying local food
Australian Fair Food Forum discussions:
Learn website:
Introduction to effective inventory management & price structuring resource created by Lydia Mofakhami
View other resources from series:
Making decisions for your food enterprise
Can we help?
Have an idea, a project or a question? Want help using the Open Food Network software?  Get in touch and find out how we can help you with it.
Create a listing, shop or group directory on the Open Food Network. Tell me more!

Read our Terms and conditions | Find us on GitHub
Open Food Network is a free and open source software platform. Our content is licensed with CC BY-SA 3.0 and our code with AGPL 3.
We take good care of your data. See our cookies policy
Open Food Network respectfully acknowledges the traditional custodians of the unceded lands on which we meet, work and live. We pay our respects to their Elders, past, present and emerging and acknowledge their deep spiritual relationship to country.