What we learned from running a collaborative logistics scheme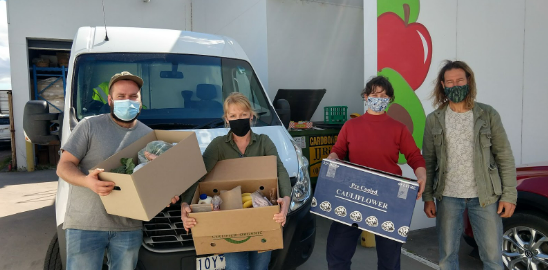 So much! From March 2021 to June 2022 we conceived and developed the largest collaborative logistics project for the values-based short supply chain sector trialed in Australia, Open Road.  We delivered over 1900 boxes of produce for more than 100 food enterprises, sending to 375 homes, hubs, and retailers across Gippsland, Central Victoria and the North East.
Some of the main learnings are:
Collaborative logistics solutions for the value-based short supply chain sector need to be developed hand-in-hand with both ends of the supply chain – increased supply needs to be matched with growing demand.
There's a strong case for publicly funding 'regional food activator' positions focussed on finding markets and logistics solutions for groups of small producers: Many of the opportunities and new solutions which emerged out of Open Road were possible due to the government investment in a local person acting as the 'glue' to connect multiple enterprises and facilitate new collaborations. 
Shared systems for coordination and risk management can unlock value from distributed and underutilised assets across the network: The human and physical infrastructure is there – networks of people/hubs/equipment to be connected, but they need the overarching support of coordination systems, establishing processes, contingency and risk planning and coordinating cold chain compliance for this potential to be realised.
Small enterprises see value in being part of the solution, if it's made simple to participate: Small businesses already in the sector have the hardware to provide these solutions (vans, cold storage/ depot functionality, existing delivery runs), but often lack the software to link together in a way that supports cold chain compliance recording and reporting, automated communications and streamlined inventory management.
We have uncovered a richness of learning from this bold and short pilot.
We wish to extend a huge thank you to the drivers, producers, farmers, food hubs, retail stores and other stakeholders involved in this project.  Although this program is no longer running, there was clear evidence that similar collaborative logistics schemes could have a massive positive impact on regional economies. 
We would love to share this with groups of regional farmers wanting to explore the potential for collaborative logistics / sharing options in their region and with public agencies wanting to support resilient regional economies. 
If you are thinking about running a collaborative logistics program, or would like to learn more about our consultation and advice services targeted to the needs of short supply chain producers and the unique collaborative logistics opportunities in your region. please send an email to:
hello@openfoodnetwork.org.au with the subject line – Running a Co-Logistics Scheme.
Can we help?
Have an idea, a project or a question? Want help using the Open Food Network software?  Get in touch and find out how we can help you with it.
Create a listing, shop or group directory on the Open Food Network. Tell me more!

Read our Terms and conditions | Find us on GitHub
Open Food Network is a free and open source software platform. Our content is licensed with CC BY-SA 3.0 and our code with AGPL 3.
We take good care of your data. See our cookies policy
Open Food Network respectfully acknowledges the traditional custodians of the unceded lands on which we meet, work and live. We pay our respects to their Elders, past, present and emerging and acknowledge their deep spiritual relationship to country.