Freight and delivery for food enterprises
How do farmers get food to eaters?
Selling food directly from farm to fork (or perhaps with a short detour via a food hub!) has many benefits. But it also presents a few challenges. How do you move food, without it costing too much – either in time or money? 
Add lockdowns to that challenge, which have created even more demand for home delivered groceries. So we looked at how to get great Australian produce into the hands of more people and found out that delivery can be a sticking point.
We figured we could fix that, save producers time and money as well as add value to their businesses. And now we have an alliance of nonprofits bringing you a courier and food brokerage pilot scheme.
Open Road – a collaborative logistics service
Called Open Road we've begun by creating distribution depots in Victoria around Hume, Gippsland, Mornington Peninsula and Greater Melbourne for local produce. Among the depots will be farms, community run grocers and farmers market groups, independent retailers. 
These are serviced by friendly professional couriers with refrigerated trucks and form pick up and drop off points for produce travelling in loops back and forth.
Delivery includes to the public, nonprofit grocers, food service, hospitality and independent stores like butchers, bakers and delis.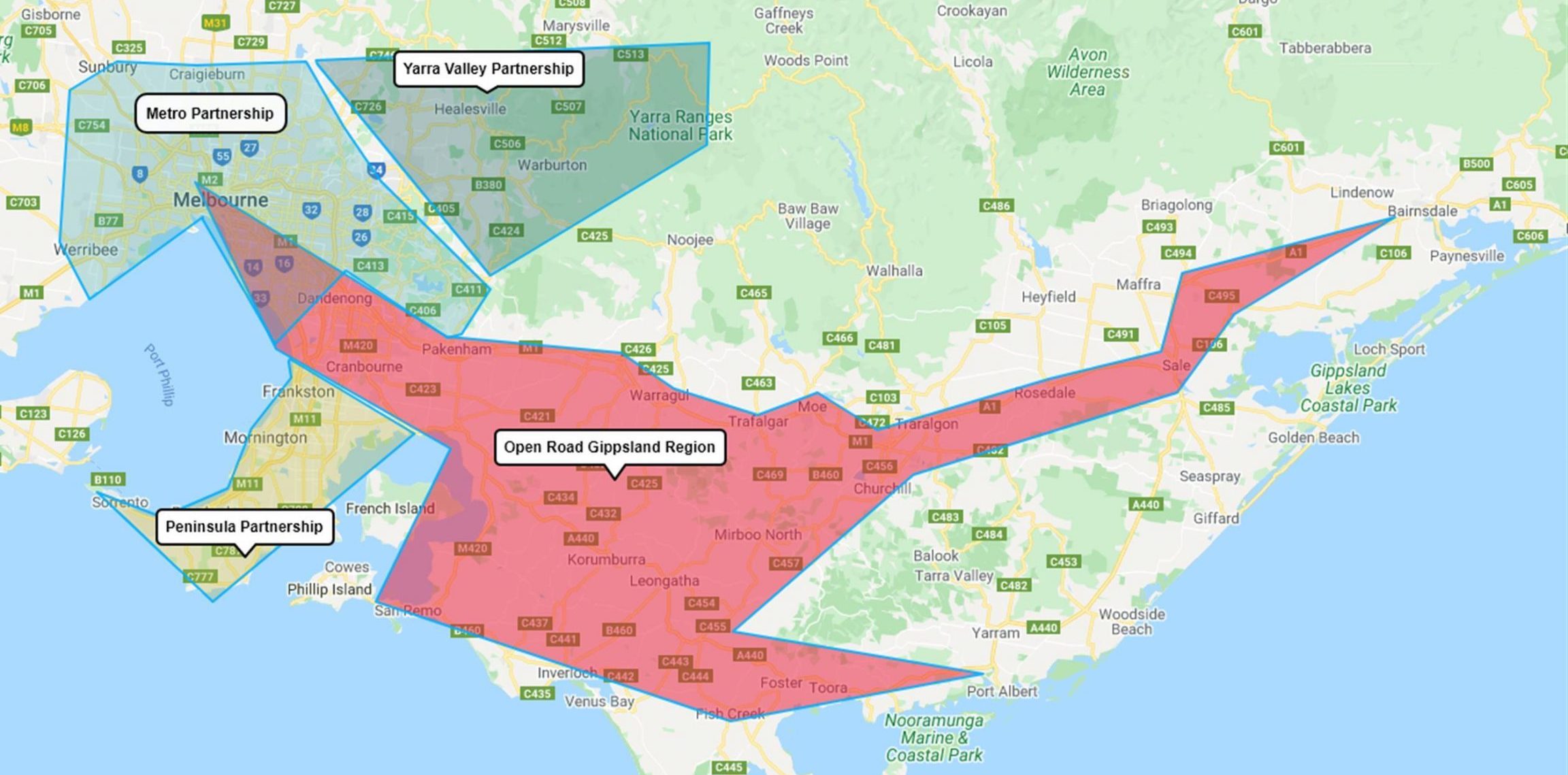 Start using Open Road
To use the service just fill out a form or make a call. The price for three boxes will be $15 + $2.50 per additional box, from one of our depots to end customer within specified Hume or Gippsland Zones.  An additional $7 for last mile delivery in Melbourne or Peninsula.
We're proud to be collaborating with CERES Fair Food, Melbourne Farmers Markets, Moving Feast and a growing network of delivery partners on this initiative and if you love it we'll be taking it wider.
Want to hit the Open Road with us? Fill in the form below!
Are you a farmer or food producer?
Are you a retailer, wholesaler, grocer, food hub, restaurant, cafe, or other sort of food seller?
What type of food enterprises are we working with?
What type of food enterprises are using the Open Road? Buying groups who want access to regional produce, farmers selling their own food or working together with other farmers to sell food, food hubs, retailers, grocers and more. 
Open source software platform
If you're working on a collaborative food enterprise, you may also be interested in using the Open Food Network e-commerce platform. 
Sell on our software platform
Sell your produce online direct to customers or other community food enterprises.
We are a non-profit, independent social enterprise co-creating an e-commerce platform that is specifically designed
for buying and selling food
to make it easy for enterprises to collaborate online
for transparency and fair pricing
to be open-sourced so we can share this tool without it being monopolised
Find out more about the software features, request a demo or start selling now.
Support and services for current users
We recognise that our software platform users work at different times across the week and process information in different ways which is why we offer customer support, a user guide and demonstration videos to help you buy and sell food online.
Can we help?
Have an idea, a project or a question? Want help using the Open Food Network software?  Get in touch and find out how we can help you with it.
Create a listing, shop or group directory on the Open Food Network. Tell me more!

Read our Terms and conditions | Find us on GitHub
Open Food Network is a free and open source software platform. Our content is licensed with CC BY-SA 3.0 and our code with AGPL 3.
We take good care of your data. See our cookies policy
Open Food Network respectfully acknowledges the traditional custodians of the unceded lands on which we meet, work and live. We pay our respects to their Elders, past, present and emerging and acknowledge their deep spiritual relationship to country.