Tasmanian Produce Collective
How a group of Tasmanian producers banded together to create a thriving online marketplace in the wake of the COVID-19 pandemic.
2020 was a year that saw many great pivots, and with the closure of many in-person farmer's markets, a group of producers in Tasmania looked at alternative sales avenues and decided it was time to band together and start an online farmer's market. Pork producer Kim Croker wanted to develop a professional and easy shopping experience for consumers "I'd been following the Open Food Network for a while, after doing some research we decided that it was the best option for us. So we created a virtual farmers market".
A group of about 5 producers started Tasmanian Produce Collective, which has grown to around 30 producers all around Tasmania. The Tasmanian Produce Collective currently has 4 shopfronts and 14 collection points and operates its collections each fortnight with the support of many producers and community volunteers.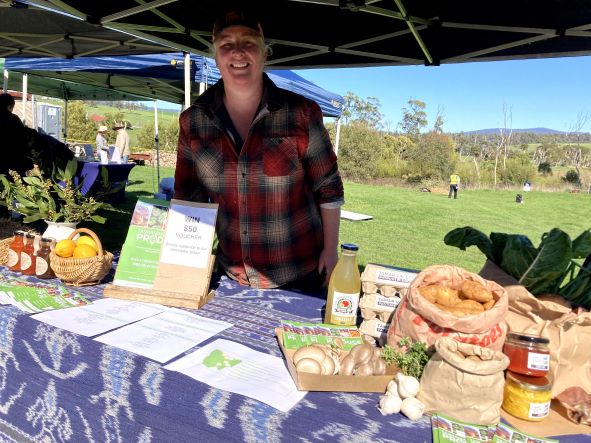 The Ripple Effect
Word of mouth has been part of the organic growth of the Tasmanian Produce Collective customer base which ranges from younger, single households through to older empty nesters and everyone in between. "Most of them have some sort of passion for the environment, eating healthy food, supporting local, and/or getting sustainable produce" explains Kim, who shared that some consumers are using the online click-and-collect market for the convenience factor – they don't have to make an early morning in-person trip to their local farmers market.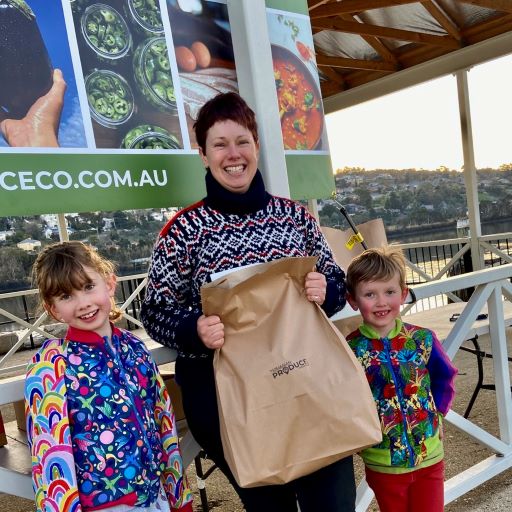 Customers are enjoying the convenience of purchasing produce from multiple producers, and producers are also finding some unexpected opportunities to collaborate too,  using each other's produce in blended products, borrowing equipment and helping each other out, car pooling deliveries and bulk buying seed, fertiliser and environmentally friendly packaging.
The hub is also proud of their reduced footprint. Producers are making conscious decisions about packaging, choosing glass over plastic, allowing clean glass bottle returns, using paper packaging that can be recycled or composted, using compostable packaging for meat and reducing food waste by only baking and harvesting to order.
Why they chose the Open Food Network
"We ended up deciding to go with Open Food Network for a number of reasons. Number one was that it was set up for food producers. So I know, with lots of different industries, it's always hard to fit food production in because we are a little bit different to most other businesses.
The Open Food Network also aligned with our ethics as well of supporting local, providing that platform and it was a cheap option so that we could ensure that we could keep our fees as low as possible for our producers.
And it really just did everything we needed to do like and it was pretty easy to work as well. Like you could jump on the setup my personal shop straight away to test it and it was super easy."
Kim Croker – Tasmanian Produce Collective
Kim went on to explain some of the other benefits they have experienced using the Open Food Network include:
A user-friendly online store
An easy way for producers to manage their products
Extensive reporting capabilities
Comprehensive documentation and User Guide
A local support team
"Anyone who is thinking of starting a food hub should definitely talk to Open Food Network."
Start selling on Open Food Network 
The Open Food Network is the easiest way for farmers, producers and food hubs to start selling online. Over 10,000 Australians have bought food from the platform which is trusted by over 1500 producers. 
Your online store can be up and running in hours – you don't even need a website!  Find out more by clicking on the button below: 
Kim has found the support of the Open Food Network Platform team invaluable during setting up the Tasmanian Produce Collective hub: "As a relatively new organisation, we've found it very helpful with our relationship with Open Food Network and their knowledge around other food hubs.
We've attended a number of webinars hosted by Open Food Network, we've done a lot of brainstorming with Open Food Network team about how we can streamline some of our processes and make it a little bit easier for us to manage, both for us as managers, the producers and the customers.
So yeah, that's really helpful having that open relationship where we can really discuss anything and  try and come up with solutions together."
Kim shared that the technical support from the Open Food Network team has been helpful, from workshopping the streamlining of their systems and ways to improve, through to technical integrations like linking their customer database to their email system. Kim also sighted a new dashboard that is being custom built by the Open Food Network team that will allow the Tasmanian Produce Collective to automate their report analysis, reducing human error and allowing them to better analyse customer buying patterns, manage finances and their producer and customer databases "becoming a one-stop-shop for everything that we need to do."
By working with the Open Food Network, the Tasmanian Produce Collective were able to rapidly expand and scale up their operations. They were able to face uncertainty caused by the COVID pandemic head on, and transition into an opportunity to form connections between consumers and producers, and producers and other producers.
Their vision, values and goals have aligned with so many Tasmanians, and has seen them expand from the initial 5 producers to over 30 and growing.
"We went from having one collection point to the 14 that we have now over the two years, which is pretty big. And when we look at the sales figures, we've pretty much quadrupled what we were doing when we started so all in all, that's pretty good".
Hungry for more? Links below to the Tasmanian Produce Collective:
Tasmanian Produce Collective Website
Kim and Daniel Croker's Fork It Farm website
Can we help?
Have an idea, a project or a question? Want help using the Open Food Network software?  Get in touch and find out how we can help you with it.
Create a listing, shop or group directory on the Open Food Network. Tell me more!

Read our Terms and conditions | Find us on GitHub
Open Food Network is a free and open source software platform. Our content is licensed with CC BY-SA 3.0 and our code with AGPL 3.
We take good care of your data. See our cookies policy
Open Food Network respectfully acknowledges the traditional custodians of the unceded lands on which we meet, work and live. We pay our respects to their Elders, past, present and emerging and acknowledge their deep spiritual relationship to country.