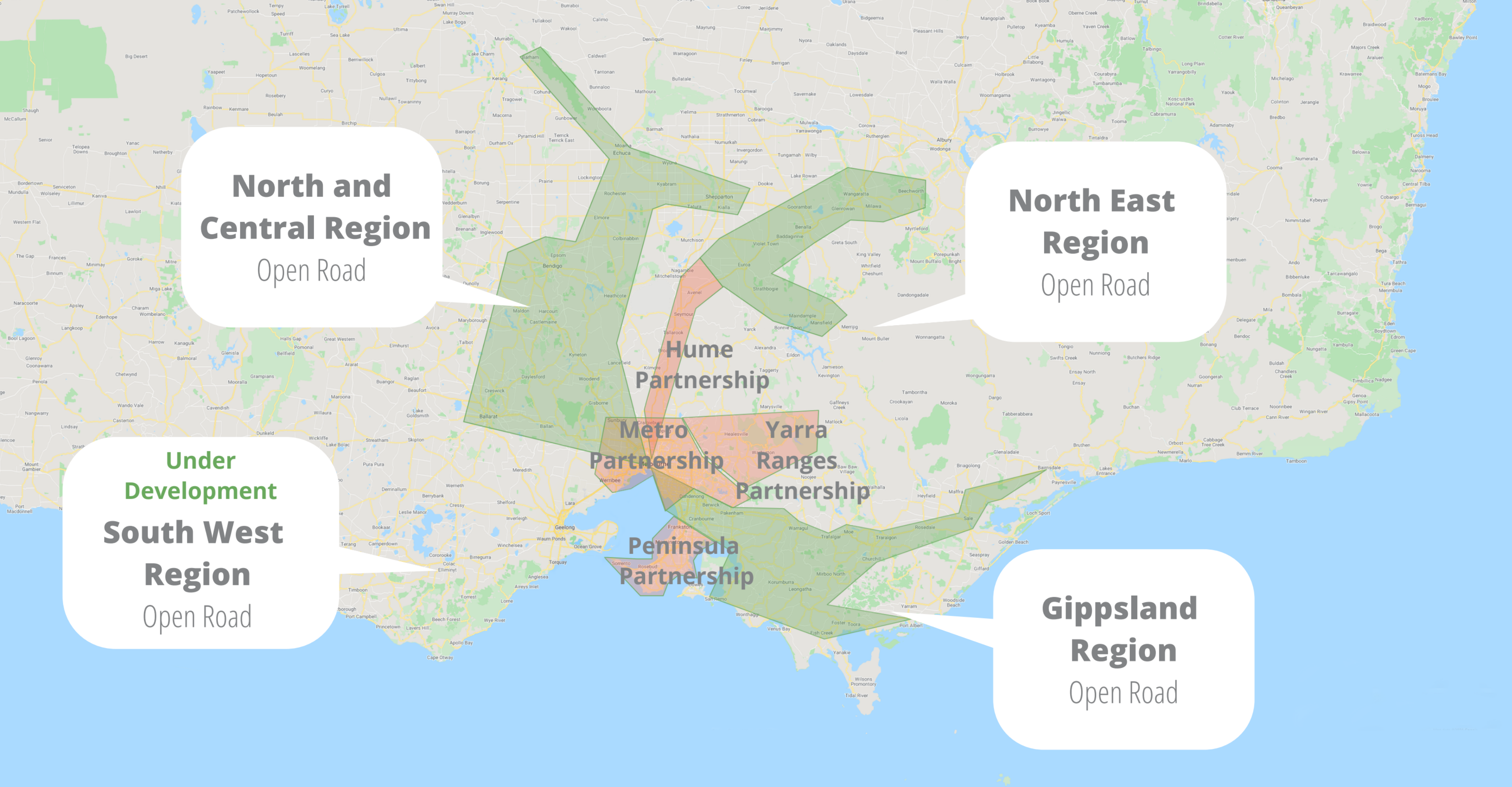 Open Road is a collaborative logistics service that helps producers save time and money in moving food from A to B. Brought to you by Open Food Network and an alliance of non-profits, we've created an affordable courier and food brokerage scheme with depots across Victoria and servicing the Central Region.
Open Road couriers are knowledgeable in the handling of produce and understand the nature of its fragility. Open Road vehicles are clean, well maintained, reliable and conform to cold chain food safety regulations.
Our customer service team are farmers, makers and fresh food retailers who can deliver the personal touch your business requires – promptly!
The North and Central Victoria Region
 The North & Central Victoria region covers a large area from Ballarat and Bendigo as far north as Barham (NSW), Echuca and Shepparton and going into the Metro Melbourne Region weekly (by demand).
Drop off/pick up is available during business hours only. Open Road may be able pick up from other locations within the Central Victoria Region and surrounds by arrangement.
Open Road Schedule in North & Central Victoria.
Open Road travels from Barham – Bendigo – Central Highlands – Metro Melb on Tuesdays and the reverse direction on Wednesdays. Please discuss Shepparton deliveries before placing your order as these are currently by prior arrangement on Wednesdays only.
Depots in Metro Melbourne
Melbourne Farmers' Markets, Melbourne Innovation Centre, 2 Wingrove St, Alphington.
How to use Open Road
Register for the service using the form below. Our team will send you a Welcome Pack with handy information to help you use the service.
Lodge an online 'service request' by 12pm the day before the requested delivery date
 If delivering via an Open Road Depot, drop goods to your closest Depot before the Send cut off time.
Customers pick up orders from Depot at Receive time (or receive at their door if delivering B2B)
If you have any issues with lodging a service request using the Open Road Portal just send us an email or request a call back.
The service request form must be completed by 12 noon the day prior to pick up (unless otherwise agreed in writing with Open Road.
Are you ready to start using Open Road?
To register your interest fill out the form below. Our Regional Coordinator based in your area will get in touch with you directly to understand your needs for the service and work with you to get your food moving.
Terms and Conditions of Service
How to use the Producer Portal
Can we help?
Have an idea, a project or a question? Want help using the Open Food Network software?  Get in touch and find out how we can help you with it.
Create a listing, shop or group directory on the Open Food Network. Tell me more!

Read our Terms and conditions | Find us on GitHub
Open Food Network is a free and open source software platform. Our content is licensed with CC BY-SA 3.0 and our code with AGPL 3.
We take good care of your data. See our cookies policy
Open Food Network respectfully acknowledges the traditional custodians of the unceded lands on which we meet, work and live. We pay our respects to their Elders, past, present and emerging and acknowledge their deep spiritual relationship to country.