Multi-farm or co-operative CSA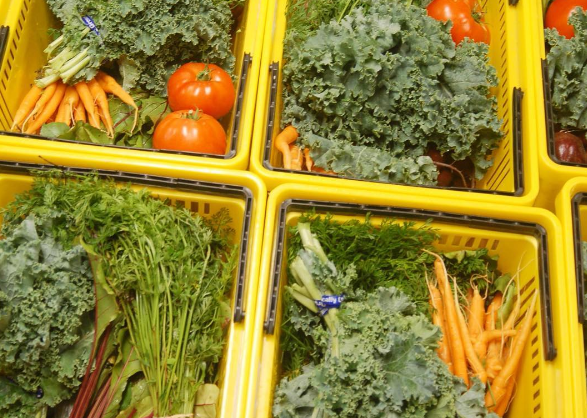 A multi-farm CSA is where local farms band together to provide scalability and more product diversity to their community. Most commonly farmers use a collectively-owned (farmers and/or customers), centralised system to market, sell and distribute their products.
According to the University of Florida, there are three general types of Multi-Farm CSA arrangements:
Supplemental farms:

 

A single-farm CSA farm with supplemental share options or available products from other local farms i.e. meat, dairy, eggs, dry goods.

Multi-farm CSA:

 Growers are networked to supply a CSA-like ordering, distribution and seasonal food support system.

Cooperative CSA:

 

Growers form a legal cooperative to work out growing, quality control and marketing structures, usually with staff to handle non-farming duties.
Although this model has various interpretations, the general premise of a CSA is upheld, where the risk is shared amongst the community, and customers pay in advance for their membership – see CSA model for more detail.
Schmidt, et al. (2011) conducted a case study on a farmer collaborative that aggregates, markets and distributes local products to individuals, businesses, retailers and restaurants through both a multi-farm CSA (500 members and seven types of shares) and a wholesale marketing program (www.intervalefoodhub.com). The model provided favourable returns to producers, but one of the main challenges faced was maintaining equity among producers given the wide variety of volume and product type. The Oklahoma Food Cooperative and High Plains Food Cooperative (in Kansas and Colorado) are similar models seeking to maintain some control with producers. However, multi-farm CSAs have inherently limited volume by their pre-contract orientation (e.g., institutions pre-purchase shares of production before the production season begins, which means that 'excess' produce cannot be sold to other clients).
Stories
Resources
 Local Harvest, A Multi-farm CSA Handbook  – Sustainable Agriculture Research and Education
Get started
This model can be implemented on the Open Food Network. To learn about setting up an online shop and using the OFN's administrative tools, check out our 
user guide
 or 
email us
.
Can we help?
Have an idea, a project or a question? Want help using the Open Food Network software?  Get in touch and find out how we can help you with it.
Create a listing, shop or group directory on the Open Food Network. Tell me more!