By providing young people with the skills, mentorship and confidence to enter farming, not-for-profit organisation Farmer Incubator is growing farmers. After starting up in 2013, the organisation now operates on four sites around Melbourne. By establishing a collaborative farming model, the organisation aims to combat the high costs and risks associated with entering farming, ultimately making this entry less daunting. Such a model has been developed extensively in the US and other countries. For a great example, see Greenhorns in the US.
Farmer Incubator is predominantly volunteer driven, and receives very little funding. Given this, the organisation relied on personal connections and networks to source free plots of land for their programs. Their four locations are in Ballan, CERES, Bundoora and Keilor.
Farmer Incubator believe that empowerment is key, and so their programs aim to provide aspiring farmers with the opportunity to start small, work cooperatively and gain the knowledge, confidence and resources to be able to work independently.
The organisation has run two types of program: an introductory program called Pop-Up Garlic Farmers, and a more advanced agribusiness program called Pomodoro People.
Pop-Up Garlic Farmers
Participants are provided with land, garlic seeds, tools and knowledge to help them grow and sell approximately 500 garlic plants. The program functions as a series of eight workshops throughout the year, where participants learn each step of the garlic growing process, from cultivating land and planting seeds to finally harvesting and marketing their product. As well as learning the growing side of things, their co-farming model helps foster collaboration, networking and knowledge-sharing between participants. After signing up to one of the four sites in Melbourne, participants work in groups to care for their plot. The program runs from Autumn through to late Summer the following year.
Pomodoro People
This program is targeted more directly to people interested in agribusiness and farm management. Through the program, Farmer Incubator tries to equip participants with the confidence to follow up leads in areas with similar farming practice, and connect them with a cohort of potential collaborators to start new projects with. Participants grow tomatoes all together with fluctuating commitment, once a fortnight for a few hours. In the growth period, there are twice weekly picks and maintenance of the crops. Over the season there are four workshops held: marketing; seed, pest and disease management; plant out, physical application and techniques; and a passata workshop.
For specific details on dates and pricing, visit their website.
Image courtesy of Farmer Incubator
Have questions? Head over to the Fair Food Forum to continue the discussion.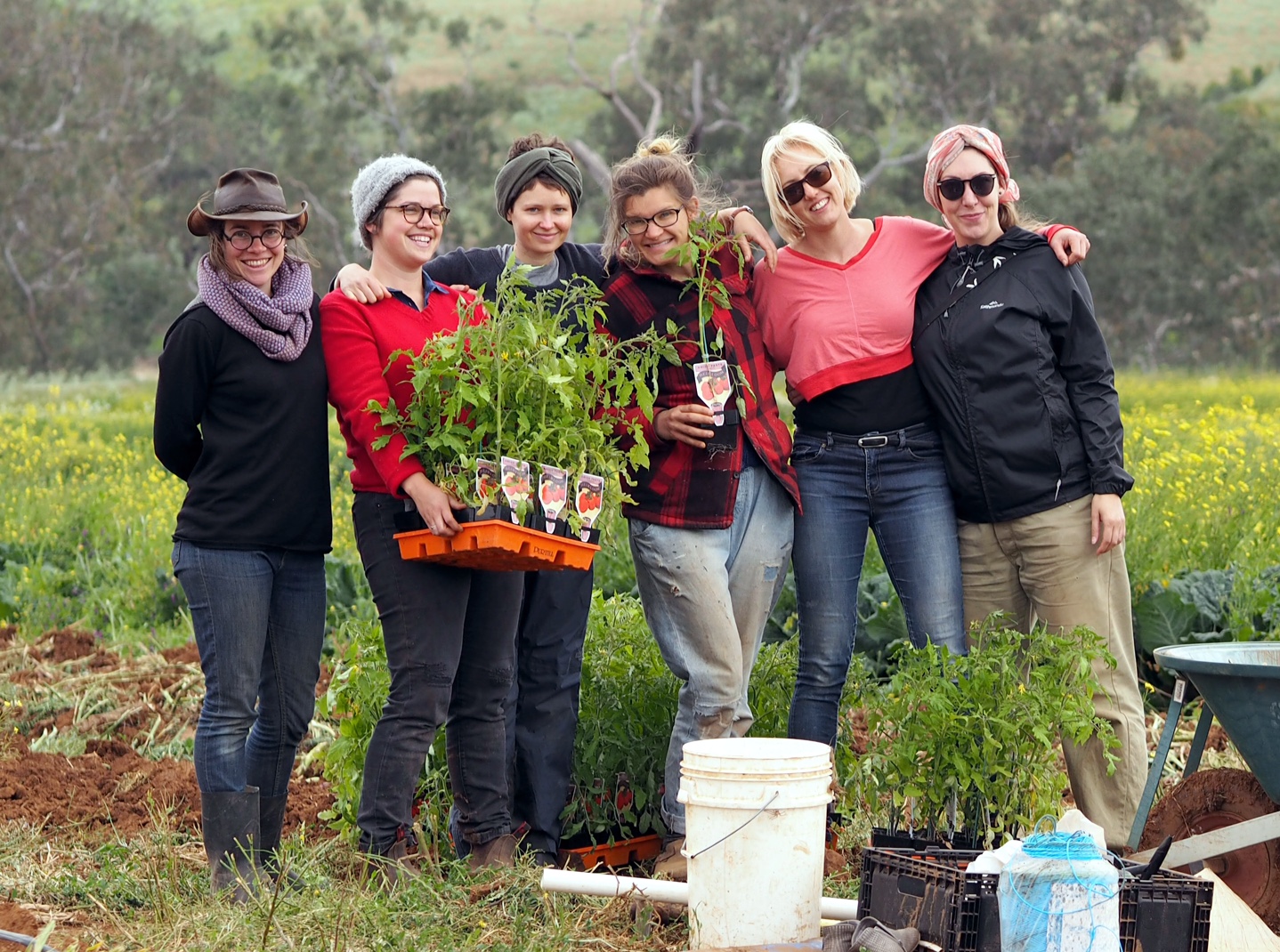 Can we help?
Have an idea, a project or a question? Want help using the Open Food Network software?  Get in touch and find out how we can help you with it.

Secure and trusted.
Open Food Network uses SSL encryption (2048 bit RSA) everywhere to keep your shopping and payment information private. Our servers do not store your credit card details and payments are processed by PCI-compliant services.
Create a listing, shop or group directory on the Open Food Network. Tell me more!