MOBILE CUSTOMER IMPROVEMENTS
We're making a number of changes to the mobile experience in the coming weeks, all aimed at making shopping with Open Food Network from a mobile more streamlined and intuitive. Below are some of the upgrades we've already made for your mobile customers.
 Improved UX for customers searching for your products
We've made some changes to the search and filter display making it easier for your customers to search for specific products in your order cycle/s and to filter their search simply when shopping using a mobile device.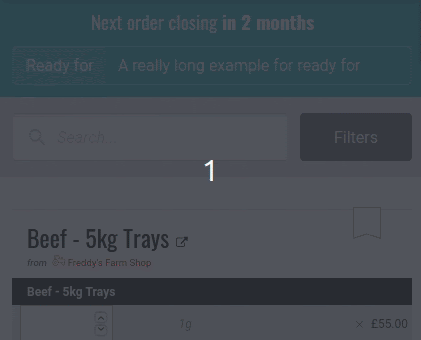 Improved UX for your customers selecting an order cycle or viewing your closed store message
We've streamlined the design of your HOME and SHOP page so that 
Your customers can select an order cycle using a simple drop down arrow if your store has multiple order cycles available: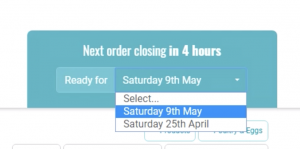 2. Your customers will be visually prompted to select and order cycle if they haven't already done so – the dialog box will turn red:

3. Your customers will be able to clearly see If your store is closed. The closed store message is now streamlined in an edge to edge charcoal text box at the top of both the HOME, and the SHOP menus.
The HOME message is a great place to give new customers all the information needed about shopping with you, including an idea of when your order cycles open, and how they can hear about the next order cycle (e.g. a newsletter sign-up link).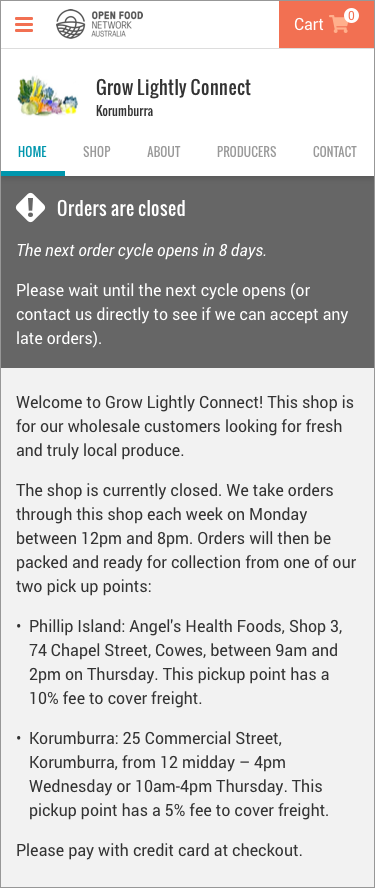 MANAGING YOUR ORDERS AND STORE
See how much is owed on each of your orders at a glance
We've included the outstanding balance due (or credit owed) for each of your orders on the order index page so you don't have to navigate any further to quickly see the payment status of your orders.
Customer Totals Report – fields added
If you run a Customer Totals report in the future you will see two new columns – one for order number and one for date/time of completion. We hope this earns some love from those doing the admin!
Bug fix – column sorting in orders admin
We've fixed a bug so that now when you click the column headers in you order admin page, they will sort by that particular field (e.g. if you click 'Completed at' it will sort by the date when the orders were completed). Thanks to Warialda Belted Galloway Beef for letting us know this bug had found its way in on a recent update – we can't fix things unless you tell us, so we always appreciate the heads-up!
Alert when an order cycle is unsaved 
If you are adding a new order cycle and accidentally refresh the page, or navigate away from the window before clicking save, you will now see a pop-up message alert "Changes that you made may not be saved". We hope this helps!
Alert when changing a shipping method
If you are changing a shipping method you will see a new warning message when you click edit – this has been placed there to remind you that if you change a shipping method, it can have an effect on active orders that have not yet been shipped.
Improved checkout experience for your shoppers
Sometimes your shop may sell out while a customer is shopping. We've made some edits to a customer's checkout experience to make it clear if they need to adjust any product quantities if an item has reduced in stock while they were shopping. 
 We're continually improving the Open Food Network in partnership with producers, shop and hub managers.
Like more detail on any of the changes above? 
Want to tell us about something that affects your shopfront that you'd like us to consider for improvement? 
Have questions about how your Open Food Network shopfront can work harder for you and the unique needs of your customers?
We'd love to hear from you, get in touch today hello@openfoodnetwork.org.au 
Create a listing, shop or group directory on the Open Food Network. Tell me more!

Read our Terms and conditions | Find us on GitHub
Open Food Network is a free and open source software platform. Our content is licensed with CC BY-SA 3.0 and our code with AGPL 3.
We take good care of your data. See our cookies policy
Open Food Network respectfully acknowledges the traditional custodians of the unceded lands on which we meet, work and live. We pay our respects to their Elders, past, present and emerging and acknowledge their deep spiritual relationship to country.