Wandiful Produce is a small-scale, biodynamic farm located just outside of Bright, in Victoria's North-East. Equipped with a passion for educating people on sustainable food and seasonality, and an inter-generational love for their piece of land, Megan Hughes and her partner Geoff Boadle have transformed their small budget and acreage into a functioning biodynamic farm, café and farm-gate store. The couple also hosts pick-your-own chestnut activities, as well as frequent workshops and retreats.
Central to Wandiful Produce's story is the legacy of Megan's grandpa. After buying an old pear orchard block in the 1950s, he planted a huge variety of hazelnut, chestnut and fruit trees. Megan bought the adjoining block from her uncle in 2013, and the journey of Wandiful Produce began.
Given the well-established nut trees, producing and selling these was the obvious starting point. However, this has not been an easy task. As Megan recalls, "I initially thought, well no one really eats chestnuts, I don't really eat chestnuts and I don't really know much about them. How the hell do I create something viable here?"
The couple originally dealt with an agent who would sell their chestnuts and hazelnuts. But after a few years of this business model, Megan realised they didn't want to leave so much in the agents' hands.
"It just wasn't the kind of connection I was wanting with my produce. I'm proud of my produce, and I want to be able to talk to the people buying it and tell them about all the different varietals. I wanted to play a bigger part in that educational element because I knew that most Australians didn't know much about chestnuts," Megan explains.
Instead, Wandiful Produce now sells their produce at their onsite, farm-gate store, at two markets a month, and online, using Open Food Network. While they don't sell a large amount online, Megan believes having an online presence and store has helped get their brand name out there and build a customer base. For more information on how Wandiful Produce have attempted to market their products through education, click here.
This new business model has also directed Wandiful Produce to create more value-added products, such as their chestnut flour and pancake mix. While there are others producing chestnut flour, Megan believes Wandiful Produce has a competitive, high-quality product. This is thanks to peeling, processing and packaging their own chestnut flour, rather than sending their chestnuts to China to be processed, which Megan says many of their competitors do – a choice that wouldn't align with the couple's desire to produce everything on their own property as naturally as possible.
While Megan is confident in the quality of their product, she says that they are still having trouble marketing their chestnuts in this way and selling them for the boutique prices she believes they are worth.
"We have an amazingly high quality product, but at the moment people don't really eat chestnuts. That's the gap we are still trying to pull together. But once we have pulled that together, and we have a good customer base who appreciate our product, then we will be able to say we are viable."
In the last few years, Wandiful Produce has extended their business to include a café and farm-gate store, allowing customers to taste and buy the farm's produce. By having visitors experience the orchard and taste the different chestnut dishes in the café, Megan believed that they could "introduce people to chestnuts through their palate." To read more about Wandiful Produce's experience of opening a café on their farm and the challenges they have faced, click here.
While best known for their chestnuts, Wandiful Produce also cook with and sell their own pastured eggs, certified biodynamic seasonal fruit and vegetables, and other homemade goodies such as jams and juices. As Megan says, "the more diverse the better. For everything that gets grown here, we try and figure out something easy we can do with it." While this is exciting for visiting customers, it also means that Wandiful Produce is able to gain profits in areas other than just the chestnut harvest, which Megan believes would not earn enough money on its own. The eggs have been a particularly viable element of their business.
For Megan, their greatest lesson has been to appreciate that things just take time. They completed their third harvest as Wandiful Produce earlier this year (chestnut season runs from March to May) and it is clear that the business has come a long way: Megan recounts weekends where the carpark was full, with cars even lined up along the road.
Despite the ongoing challenges of educating customers, dealing with expensive registration fees and managing both the café and farm in conjunction, Megan is confident looking into the future that they will be able to succeed with chestnuts. With only 20 acres of land (counting Megan's mother's property from which they also harvest chestnuts) Wandiful Produce is a great example of how a small property has the potential to be a viable farm.
Read more about Wandiful Produce on their website, or buy some of their chestnuts through their online store.
If you want to ask any questions or continue this conversation, hop over to the Fair Food Forum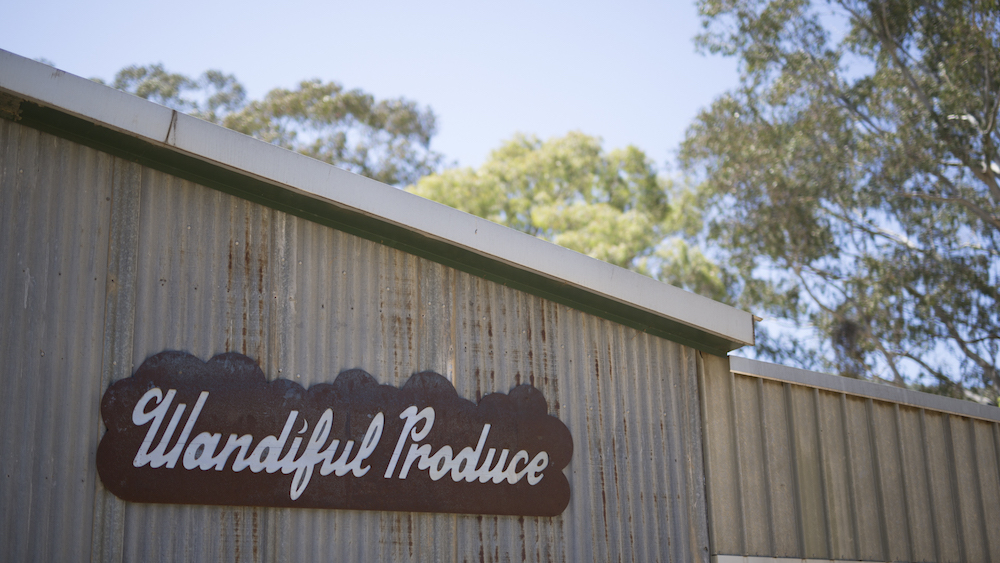 Can we help?
Have an idea, a project or a question? Want help using the Open Food Network software?  Get in touch and find out how we can help you with it.

Secure and trusted.
Open Food Network uses SSL encryption (2048 bit RSA) everywhere to keep your shopping and payment information private. Our servers do not store your credit card details and payments are processed by PCI-compliant services.
Create a listing, shop or group directory on the Open Food Network. Tell me more!