Starting a commercial kitchen and cafe on your farm – Wandiful Produce
A few years into running their biodynamic, small-scale farm, Megan Hughes and her partner Geoff Boadle decided they wanted to change the way they ran their business at Wandiful   Produce. They switched to selling directly (rather than through an agent) and decided to build an on-site commercial kitchen and café. Megan believed allowing people to taste their products and properly experience the farm would improve understanding and appreciation of their produce.
Building the space
Megan and Geoff were able to set up the space relatively cheaply by building most of it themselves. Over a 12-month period, the pair would come to the farm every weekend to work on transforming the shed into a kitchen and café. Luckily, Geoff is very handy, and so they only needed to get in people to do the electrical and plumbing work.
Megan and Geoff were able to get set up with a budget of about $60,000 in savings, most of which was quickly soaked up by essential things like water tanks, solar power, registration fees and kitchen materials, with very little spent on 'cosmetic' details in the shed. They cut costs where they could, such as getting bricks from the tip to clean up and use for the oven.
Registration and permits
The application form to have the café and sell produce was $1000. Megan is critical of the fact that this fee is not incremental and so applies in the same way to both small and large scale businesses.
They were able to avoid a lot of red tape, given that they were dealing mainly with chestnuts. This meant that they didn't have the strict regulation issues associated with animal products.
Megan says they had some problems getting their compost toilet approved, but the fact that it was EPA-approved helped to persuade the council.
Lessons and challenges
The café has been incredibly popular, with customers enjoying its relaxed vibe and cosiness. Having the café has helped generate greater understanding amongst customers, particularly around how to cook with chestnuts (for more information about how this education has helped Wandiful Produce market their product, click here). Megan also believes that the café has helped build the farm's customer base and increase their exposure: having had a positive experience at the café or on the farm, customers now recognise and approach them at farmers' markets.
The popularity of the café has however presented the farm with a difficult learning curve. When they first opened the café, they decided to run it every weekend (Friday, Saturday and Sunday) for 12 months as a trial. They observed how and when it was popular with tourists and locals, and found that the Autumn harvest period was by far the busiest. Outside of this time, the café was not nearly as popular and the farm lacked the dynamic nature it had during harvest. What's more, Megan felt that during this off-season the café ended up taking too much of their time, produce and money – with no guarantee that customers would even turn up after they had prepared the day's food. With so much time being taken by the café, they were also unable to be as attentive to the garden and nut trees. Given this, Megan decided to only open the café in the harvest period.
While Megan believes this was the right decision, she said that the restricted opening hours has prompted some negativity from customers complaining that the café is not open all the time. However, as Megan says "it doesn't matter how much people demand. You absolutely have to stick to your guns and do what you can manage without spreading yourself too thin."
The experience has helped Wandiful Produce to re-evaluate their business and its direction. With the café only open during the harvest season, they have been able to focus more on their produce and product development, which was their original core concern.
Megan says that the whole experience of building the kitchen and café has also taught them that "you don't need to have the most expensive or latest equipment to be able to produce and sell commercially". Hard work, time and a passion for what they are growing and cooking have all been central to the success of their café.
Read more about Wandiful Produce on their website, or buy some of their chestnuts through their online store.
If you want to ask any questions or continue this conversation, hop over to the Fair Food Forum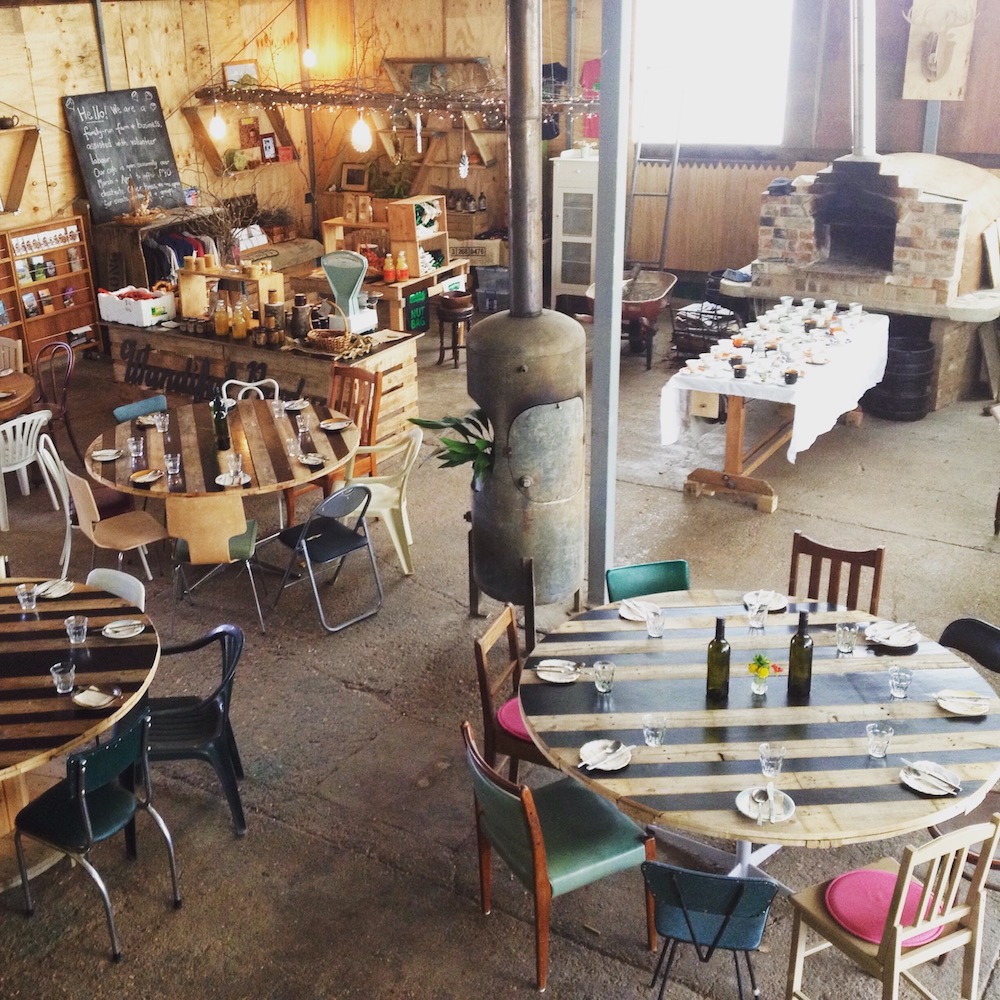 Can we help?
Have an idea, a project or a question? Want help using the Open Food Network software?  Get in touch and find out how we can help you with it.

Secure and trusted.
Open Food Network uses SSL encryption (2048 bit RSA) everywhere to keep your shopping and payment information private. Our servers do not store your credit card details and payments are processed by PCI-compliant services.
Create a listing, shop or group directory on the Open Food Network. Tell me more!