Resources to help you run a crowdfunding campaign
Crowdfunding campaigns can be a great way to raise funds and awareness of a project, however, require significant resources and time to get up and running. You must allocate at least a few months to dedicated planning and promotion.
It is important for you to be able to get people to understand why they should support your campaign. Being able to situate your campaign within a broader strategy, for example helping to build the community, is a useful technique,  as is having a tangible product or reward to show supporters. If you would like to read more about people's advice and experience with this, join the crowdfunding conversation on the Fair Food Forum.
David Hood at Doing Something Good and the Local Food Launchpad has put together the following tips for crowdfunding:
Crowdfunding provides an opportunity to test your market like a type of MVP.   Good rewards are essential. Crowdfunding works particularly well when customers get a product or service in return for their contribution.

Great way to build a relationship with your audience and build community. Starting with early adopters who then becoming advocates/evangelists.

Need to make sure you're building your audience now so you're not starting from scratch. 




> Setup your email list and start taking names. 




> Setup your social media channels and start building your audience.

You don't need to have built your product or service yet, having an explainer video is enough. Create a storyboard, write your script and create an explainer video.

Have promotional copy ready to go for all channels, and make it easy for people to share.

Have new content and updates to go out at key stages of the campaign to keep it alive. Assume people don't know about it when posting new content.

Have some friends and family ready to put money in pre-public launch. People are more likely to put in money when they see others have.

Be ready to put in extra work if it's quiet, OR if it's wildly successful.

Thank people and celebrate!!!
Benefits of crowdfunding:
A crowdfunding campaign can help bring forward cash flow, and test the market with pre-sale of your product/service.
Crowdfunding can be a great way to build brand awareness and strong customer support.
Crowdfunding platforms:
Chuffed is a great platform available for projects that meet the following criteria:
Fundraising for a social, community or political cause

Fundraising for a project with a defined outcome

A reasonable person must be able to understand where the money is going
Fees for using Chuffed are in form of optional donation.  
There are many other similar platforms available.  This site has some good general information about different types of crowdfunding, including reviews and what to look out for.
Image credit: ColaBoraBora CC BY-SA 2.0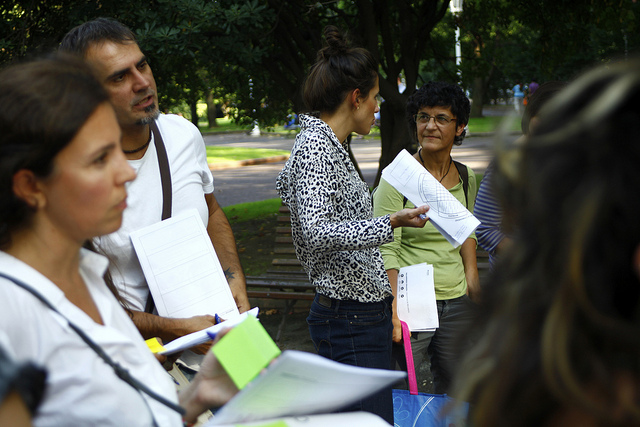 Can we help?
Have an idea, a project or a question? Want help using the Open Food Network software?  Get in touch and find out how we can help you with it.

Secure and trusted.
Open Food Network uses SSL encryption (2048 bit RSA) everywhere to keep your shopping and payment information private. Our servers do not store your credit card details and payments are processed by PCI-compliant services.
Create a listing, shop or group directory on the Open Food Network. Tell me more!