A Mobile Food Outlet (MFO) is a food enterprise on wheels! This may take the form of a wholefoods mobile grocer or a van serving pre-prepared food. There are emerging forms of mobile food outlets that are simultaneously tackling social and/or environmental issues.
Like pop-up stalls, MFOs can travel to their customers, rather than relying on customers to come to them, which is an important factor when servicing people who require increased food access or other identified needs. It also allows for the food enterprise to service multiple communities at multiple locations, which again is integral when there is a community service element to the business model.
Emerging MFOs increasingly focus on improving local food access to marginalised communities and reducing food insecurity.
There are significant start-up costs to do with vehicle leasing/purchasing, fit out and branding. There are also considerations to be made regarding  receiving council approval to set up and sell. This can be particularly challenging if local business see the MFO as a threat to their current business model.
MFOs can act as a powerful advocacy and education tool through clever placement, signage and branding. Their mobile nature enables them to be set up in high-traffic areas or at relevant events and festivals that will encourage support of the local food movement or social justice issues.
The Food Justice Truck is an initiative of the Asylum Seeker Resource Centre (ASRC), which offers a mobile fresh food market that offers locally sourced produce including fresh fruit, vegetables, grains, legumes, tea and bread at a 75% discount to people seeking asylum. It is the world's first retail model that enables the general public to invest in quality fresh food for their family, while re-investing profits into affordable nutritious food for people seeking asylum.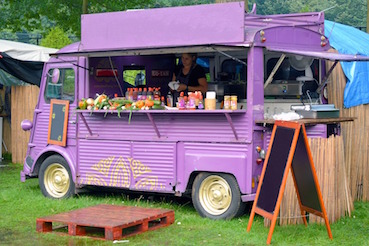 Can we help?
Have an idea, a project or a question? Want help using the Open Food Network software?  Get in touch and find out how we can help you with it.
Create a listing, shop or group directory on the Open Food Network. Tell me more!