The Intervale Food Hub markets and distributes local vegetables, fruits, meats, eggs, cheeses and specialty products. Their goal is to provide the greater Burlington community (Vermont, USA) with convenient access to high quality foods while returning a fair price to farmers. By providing complete transparency, they hope to better connect people with their food and the farmers who have grown it.
The Food Hub serves individuals and businesses all year round, through a multi-farm Community Supported Agriculture (CSA) program. In partnership with various community centres, workplaces and institutions in the area, members are able to pick up their weekly deliveries of food. In addition, the Food Hub facilitates farm connections to wholesale buyers including retailers, restaurants and institutions.
Community Supported Agriculture is a mutual commitment between local farmers and community members. CSA members provide a stable market and fair compensation for farmers. In return, farmers provide CSA members with a weekly share of the harvest during the local growing season. This relationship symbolizes a shared commitment to building a more local and equitable food system, one that enhances farm viability, land stewardship and community engagement. To learn about the model in more detail, visit this article.
At the moment, the Intervale Food Hub works with approximately 40 producers in the Vermont region, who all use organic, humane and sustainable farming practices.
The hub was developed by the Intervale Center, which engages farmers and eaters at every step of the supply chain of local food, from pre-production planning to post-consumer waste disposal.
They started with 350 acres of degraded land, a compost pile and most importantly – a vision to produce 10% of their local food needs. In the 30 years they have been running, they have been able to lead a community food revolution with the mission is to develop farm and land-based enterprises that generate economic and social opportunity while protecting natural resources.
One of the Intervale Center's major focuses is on farm enterprise development and incubation. Aside from the Intervale Food Hub, their other key programs are:
Farms Program (founded in 1990) – by leasing land, equipment, greenhouses, irrigation and storage facilities to small independent farms, this program helps remove the start-up barriers for new farmers. Currently, the program leases land to seven mentor farms, who provide mentorship and leadership to the incubator farms.
Farm Business Planning – the Intervale Center provides Vermont farmers with business development opportunities through multiple programs such as the Vermont Farm and Forest Viability Program, Beginning Farmer Business Planning and Coaching and Vermont Land Link.
Intervale Conservation Nursery (founded in 2002) – by working with landowners, farmers, organisations and government agencies the nursery works to restore Vermont's waters. They do this by growing native, locally sourced trees and shrubs for restoration projects. The nursery also provides planting services for riparian buffer zones and storm water management projects.
Gleaning and Food Rescue Program – in conjunction with the Fair Share Program, this program gleans and rescues vegetables from Intervale farms to distribute to 150 households and 15 social service agencies.
To learn more about Intervale Center's programs, visit this page on their website.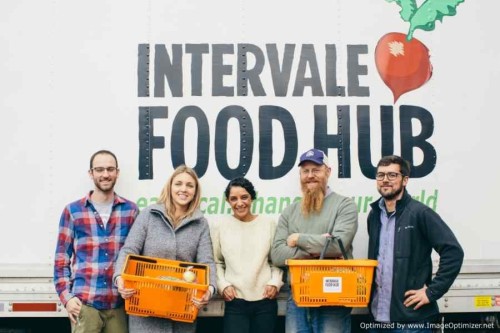 Can we help?
Have an idea, a project or a question? Want help using the Open Food Network software?  Get in touch and find out how we can help you with it.
Create a listing, shop or group directory on the Open Food Network. Tell me more!