Integrated Farm Tourism & Value Added Activities
U-Pick
This is a pick-your-own experience that works particularly well for fruit growers i.e. berries, stone fruits, apples etc. It offers an on-farm experience to the customer and particularly appeals to families and people who would like to see first-hand how their produce is grown.
By inviting people onto the farm, there is also the opportunity to offer value-added products including jams, preserves and other baked goods. It also opens up the opportunity to offer BBQ and picnic facilities, as well as a farm shop or cafe.
A u-pick model is also viable for market gardeners or diversified small-scale farmers who can encourage customers to fill a box for a specified amount. This has been implemented with success at Basils Farm, which also operates a winery.
U-pick models are especially relevant for producers that are located in high-traffic and high-tourism regions.
Blue Hills Berries & Cherries – a range of berries and cherries are available for U-Pick, depending on fruit availability and seasonality.
Payne's Orchards – U-Pick is available for cherries, berries, stone fruits and apples (check the timetable to see when different fruits are available). Entry is $5 and fruit is priced per kg. 
Sunny Ridge Strawberry Farm – prices vary for adults, children and families and a punnet of strawberries is included in the U-Pick entry price.
Wandiful Produce – customers are able to pick their own chestnuts during chestnut season (March to early May)
On-Farm Cafe
On-farm cafes enable customers to enjoy the produce grown on the farm in an authentic setting. Farm Cafes work well in high-traffic or high-tourism regions where customers are keen to learn about processes on-farm and see this first hand, whilst also trying the product.
A cafe may be setup in the traditional form with a full menu, or may operate as a tasting location with the option to buy product to consume on-site i.e. cheeses, wine, milk/dairy.
Caldermeade Farm and Cafe – Caldermeade Cafe is open daily on weekends and weekdays, offering country food in their dairy farm setting.
Jjaras Farm Gate and Cafe – all products sold at the cafe have local origins and are homemade on the farm. 
Collingwood Children's Farm Cafe – the cafe is attached to the Collingwood Children's farm, which is within a few kilometres of Melbourne city.
Wandiful Produce – the cafe is open during the farm's busy chestnut season. To read more about how owners Megan and Geoff have set up their commercial kitchen and cafe and the challenges associated, read this extended Learn article.
Workshops / Education
There's a growing number of people who are seeking to reconnect with where and how their food is grown and are looking to learn lost skills around food growing, baking, preserving and making things from scratch – all the skills that were traditionally passed down by families!
For interested producers there is a wonderful opportunity to share skills in a structured and paid way through workshops. This is often underpinned by the producer having a strong social media strategy and presence to encourage participation in such workshops. Workshops are also a great way to supplement income from other farm-related activities.
Workshops can be held on-farm or off and may include things such as; establishing productive gardens, bee-keeping, salami making, butchering, preserving, bread making etc
Grown & Gathered offer a full workshop program that encourages people to gather their own group or network to participate in full-day workshops, either on farm or at a chosen location.
Jonai Farms offers on-farm workshops including salami making, sausage making and curing, with a full program available on the website.
Bundarra Berkshires – Charcuterie and butchery courses are offered, as well as events and other on-farm activities.
Farm Tours
Farm tours are a method of educating and engaging the community on-farm. They may be organised individually by the farmer, coordinated as a group of farmers for a multi-farm day trip or may be arranged by a Food Hub or CSA to further engage their customers.
Farm Tours offer a vital step in connecting consumers with where and how their food is grown.
Moffit's farm offers care-farming tours and experiences here in Australia. Care Farming is the therapeutic use of farming practices.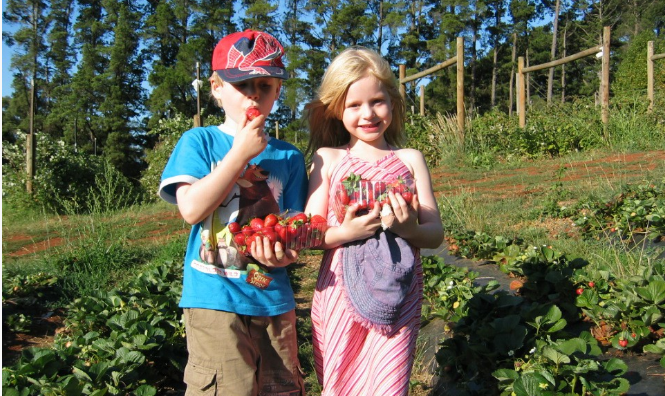 Can we help?
Have an idea, a project or a question? Want help using the Open Food Network software?  Get in touch and find out how we can help you with it.
Create a listing, shop or group directory on the Open Food Network. Tell me more!