A food hub is a business or organisation that actively manages the aggregation, distribution, and marketing of source-identified food products primarily from local and regional producers in order to satisfy wholesale, retail, and institutional demand.
Food Hubs range in scale from volunteer-run buying groups using temporary spaces for receipt and packing of goods (like community or school halls, churches and garages) to permanent and well-established Hubs providing a variety of business, educational and/or food access services. 
Unlike traditional distributors, food hubs are committed to maintaining transparency in their supply chain, sourcing products which have been ethically produced, providing fair prices to producers and identifying exactly where the final product came from. Food Hubs play an important role because they make trading more efficient for the producer and the customer. Producers benefit because they can access a larger customer pool through the Hub than they could maintain alone.
The Hub also takes care of tasks such as delivery and collecting payment, so the producer doesn't have to. The consumer benefits from shopping at the hub because they can access a wide range of products, in one place, with low transaction/time costs.
Food Hubs can be the point from which delivery is coordinated to Buying Groups, Co-ops, Households and other businesses.
Food hubs are often EITHER driven from producers (with view to increase market access) OR from consumers / consumer advocates.  Some hubs, like for example, Manchester Veg People in the UK, are set up with explicit multi-stakeholder ownership (buyers and sellers) and there are processes embedded to manage achievement of multiple objectives and to navigate potential conflicts.
There is a very real challenge in reconciling the tension between achieving multiple objectives (fair price to farmers; sustainable food; affordable food to eaters).  The industrial food system provides "cheap food" by externalising costs (born by all of us).   As we re-build the food system we need to consider how these multiple outcomes are mutually supported. There are strong cases for public and philanthropic investment in food hubs, particularly in the start-up phases.
A food hub network is a model through which food hubs across a state or region collaborate formally or informally, to share best practices, business services and buy, sell and distribute to and from each other.  Take a look at this article or the New Venture Advisors for more.
Stories
Resources
South East Food Hub Report – read more here
There have been recent feasibility studies for food hubs in the Australian context. Click to read the Bendigo  Food Hub Feasibility Study and the Wangaratta Food Hub Feasibility Study.
Another great article from New Venture Advisors covers recent trends in Food Hub Planning in the US – read more here
Recent financial benchmarking study of food hubs in the US – read more here
This model can be implemented on the Open Food Network. To learn about setting up an online shop and using the OFN's administrative tools, check out our user guide or email us.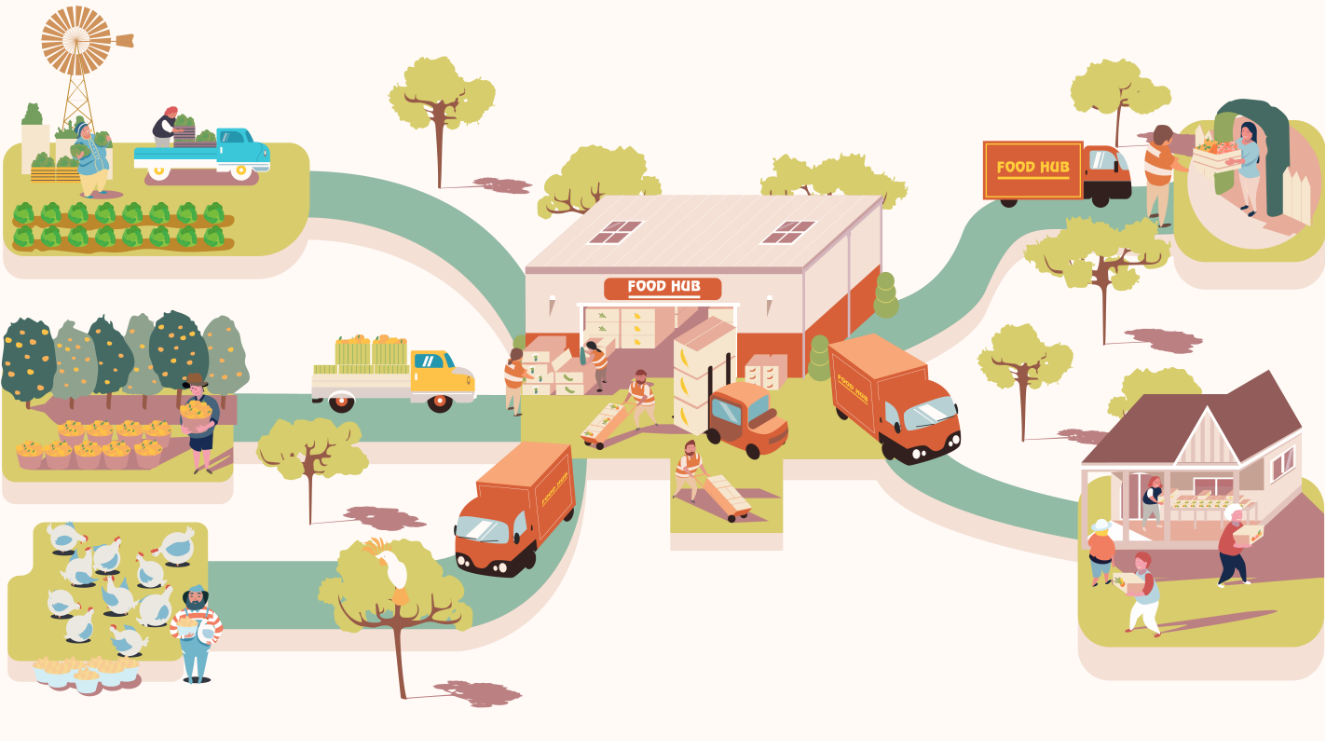 Can we help?
Have an idea, a project or a question? Want help using the Open Food Network software?  Get in touch and find out how we can help you with it.
Create a listing, shop or group directory on the Open Food Network. Tell me more!