Edithvale Community Greengrocer (@edigrocer)
For Jono Leschinski and partner Jessie Lopez, starting a vegie box program in Edithvale was the perfect way to channel their home suburb pride, and passion for sustainability and justice. Edithvale Community Greengrocer (Edi Grocer) is now in its second year of business, and with future plans to expand into a cooperative, has proven the value and power of careful planning, hard work, and strong, respectful relationships. Edi Grocer currently provides locally-sourced, organic and affordable fruit and vegetables to nearing 100 families in Edithvale. Through their weekly box program, they have also been able to educate people about fair food, and build a strong community in their neighbourhood.
Starting out
Jono describes their enterprise as having quite radical roots. Both Jono and Jessie have spent considerable time overseas: Jessie has worked in community development in East Timor, and Jono has lived and studied in Costa Rica, Central America, and most recently in Cuba for 8 months (where Jessie visited him too!). By living & learning in Cuba, Jono and Jessie both realised the revolutionary potential of a new food system, and saw the full extent of what that could look like.
"Politics and justice were very important to us, and the most basic need we could think of was food," says Jono. "It also ties into so many of those big issues, so we thought we may as well start there."
Edithvale was an obvious choice for the couple to direct their attention. Having grown up there, Jono and Jessie understood the neighbourhood, and had a real investment in its future. Small businesses in the suburb's main shopping strip were disappearing, and nowhere was selling fresh fruit and vegetables, which made for a clear opportunity. By providing the neighbourhood with fresh, locally-sourced fruit and vegetables, they hoped to promote sustainability and fairness in the food industry, and simultaneously strengthen community connections. From this idea, Edi Grocer was born!
Jono received modest income support for the first nine months through the New Enterprise Incentive Scheme (NEIS) which provided invaluable financial security in those early crucial stages.
Jono freely admits, "I didn't know anything about food growing before we started." The initial months involved a lot of learning – getting to know the farmers in the area, knowing what they grew, being able to identify different crops and understanding how they can be used together.
From the beginning, Jono & Jessie have been acutely aware of the need to build Edi Grocer slowly and sustainably to ensure its long-term viability. Careful planning, modest marketing, engagement with growers and a small, manageable group of and buyers have been central to this.
As an initial way to market Edi Grocer, the approached the local primary school to put an ad (call-out for early adopters) in the newsletter to reach approximately 500 local parents. Not only did this cost them very little, it also meant that their first box order would be relatively small and targeted. This was important, as they needed to be able to prove to these initial members and themselves that their business model worked, and that it was efficient. There were 15 families for the first delivery (signing up for a 6 week trial), more than half of whom are still with Edi Grocer over a year later.
From this first box, Edi Grocer has continued to grow in size and strength. Relying mainly on word of mouth and social media means the enterprise has spread relatively organically.
"We try to keep really low key. We haven't really committed to reaching out and marketing yet, because we are still proving to ourselves that we can find all the produce, that the farmers exist and that with every season we are able to do it again."
The business
At the moment, Edi Grocer works with a pool of 50 farmers, to deliver vegie boxes to 75+ regular families weekly. While they are a box scheme in their current form (technically sole-trader), they are researching how to soon transition towards a full blown cooperative-style enterprise.
Central to Edi Grocer's functioning is a belief in the importance of sustainable, fair food. Because of this, they only source produce from small scale farmers, with a preference for biodynamic and organic.
Edi Grocer's business model is unique in its tiny labour force (2 people, with no plan to use volunteer labour) and ability to function with very few overhead expenses. 
The idea of building a strong community and being able to provide for this, is central to the Edi Grocer business ethos and model.
"We could increase our prices, or push our online presence reaching more of the suburbs, but we don't want to build something that big. We just want our suburb to have a stable and affordable food future— with the hope other suburbs with easily copy us!"
To read more about how Edi Grocer has built its community, this article details the way in which Jessie and Jono have tried to foster strong and meaningful relationships with both their farmers and customers.
Creating work/life balance
Jono and Jessie are well aware of the tendency for new enterprises to burn out after their initial excitement and funding, and recognise the even greater risk due to working in isolation. To avoid this they are trying very carefully to design a model which allows them to work normal business hours— ideally even less!
"We have tried really hard to make this job not gruelling, because we know the burnout will be the biggest thing," explains Jono. "Making sure we have a fair balance is so crucial, to make sure we still feel connected to each other, our family and wider friends and community, and still love driving around the peninsula another year on."
Initially Jono worked at Edi Grocer 2-3 days a week and tutored and worked at a high school on the other days, while Jessie worked full time and then helped after hours developing Edi grocer.  The project's growing size allowed Jono to transition for income support to work essentially full time. Tuesdays and Fridays are delivery days, where produce is picked up in the morning, reshuffled into the boxes around lunch time and delivered by late arvo. On Wednesdays, they have a the shop open for members to pick up their box as well as for passers by and folks who don't need a whole box. Mondays and Thursdays are slightly shorter days, and allow time to catch up on bookwork, banking and emails.
"While it's easy to want to talk about and work on something we feel so passionately about and love doing, we make a conscious effort to try and keep shop talk to working hours. Though it's not always that easy!"
Jono and Jessie try to be strict with their hours, for their own relationship and sanity but also long term viability of the business. As such they try very hard not to answer emails outside of work hours, or do any work on the weekend – aside from the occasional community event, or farmers market visit. This attitude ensures the role remains wholesome and rejuvenating, rather than taxing— though it must be worked on and monitored diligently.
Future Direction
There are clear goals for expanding Edi Grocer's box capacity, namely reaching their self assigned 'cap' of 100 families ("not too big, not too small") and transitioning towards being a cooperative. At the moment, they are in a stage of re-evaluating logistics. For example, a cool room could be their next big investment, in terms of scaling up and efficiency. However, they're not convinced they could use a cool room and still maintain their commitment to "fresh" produce – picked that morning— which marks a significant point of difference to supermarkets and a much needed edge over similar profit-driven businesses.
While these structural changes and revisions are crucial and perpetual, they are also eager to increase the educational and cultural element of the existing Edi Grocer community. By facilitating more educational workshops and farm tours, they hope to connect people to their food and farmers in a more tangible way. In this sense, Edi Grocer can be part of a greater culture of learning and teaching within the community.
On top of this, they are working to keep introducing and promoting other business shifts to address sustainability as a whole, for example incorporating elements of the zero-waste movement.
Ultimately, by building slowly and sustainably, Jono and Jessie hope to see Edi Grocer functioning well into the future, consistently and reliably providing Edithvale with fresh produce.
"Longevity and community is the bigger goal— more so than simply good food quickly."
Edi Community Grocer are also on the Fair Food Forum, and able to answer questions about how they operate.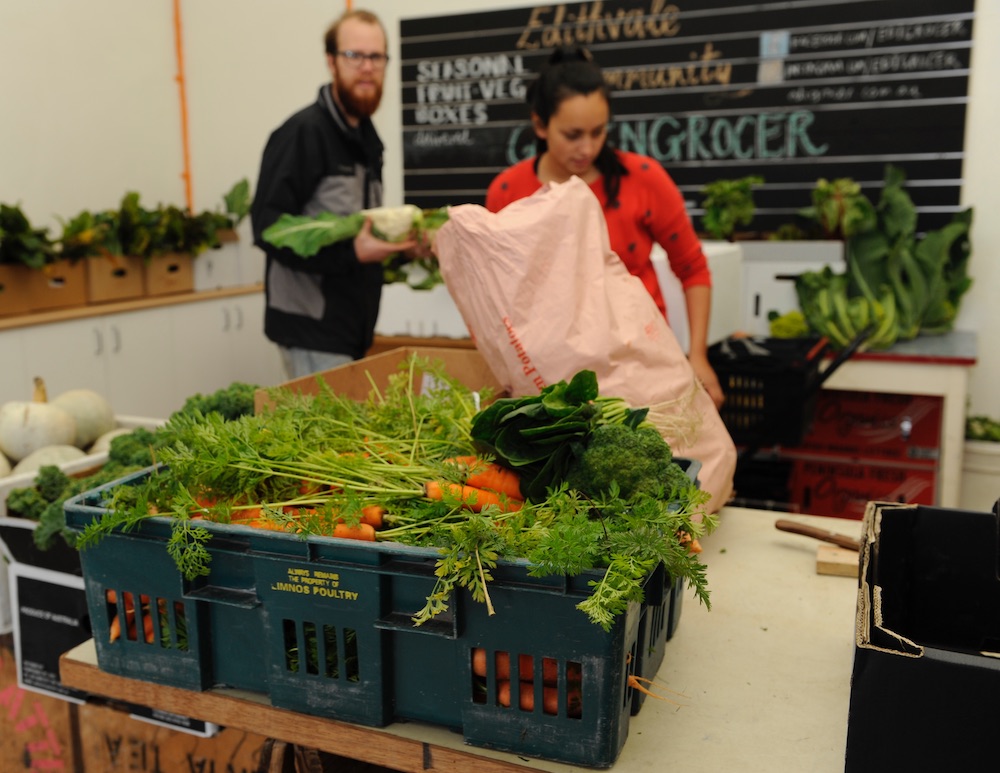 Can we help?
Have an idea, a project or a question? Want help using the Open Food Network software?  Get in touch and find out how we can help you with it.

Secure and trusted.
Open Food Network uses SSL encryption (2048 bit RSA) everywhere to keep your shopping and payment information private. Our servers do not store your credit card details and payments are processed by PCI-compliant services.
Create a listing, shop or group directory on the Open Food Network. Tell me more!