A Box Scheme is the delivery of locally acquired food to the customer's doorstep or drop-off points. This can be in the form of a seasonal box, which is a bit of a 'pot-luck' for customers or there may be options for customers to tailor their order. Tailored orders require more administration to limit food waste and ensure accuracy, especially if the boxes are being supplemented by other farms or multiple producers.  They are also more labour intensive to pack etc
A Box Scheme may solely be made up of fruit and vegetables or include specialty items such as meat, cheese, eggs, dairy and or dry goods. When adding goods that require temperature control, safe-storage on delivery must be considered.
Many Box Schemes will be supported by an online ordering platform and orders will often close a few days prior to the allocated delivery date, to allow time for the aggregation and delivery of orders to the packing site.
Box Schemes are often founded on core beliefs, which differentiate the offer for possible customers. This may be to support local producers, provide exclusively organic produce, offer low-packaging options or it may be designed to deliver on mass and play on the convenience of home-delivery. Large-scale models are often supported by the wholesale markets rather than individual farmer relationships.
Box schemes can take on many forms, some of which include:
Farmer developed and distributed
There are successful examples of farmers developing and distributing their own box scheme, often chosen collection points in a regional hub or city closest to their farm. Drop-off points can be a local park or supportive business such as a cafe.
Co-operatives, Buying Groups
Food co-ops and Buying Groups can either develop direct relationships with farms, purchase through a Food Hub or a mix of both. Boxes can be delivered pre-sorted or the group can take responsibility for sorting boxes into individual orders. Boxes are normally delivered to one location for collection between certain hours each week.
Examples include:
Multi-farm or wholesale top-up box scheme
Box Schemes can be managed by a collective network of farmers, by one farmer who sources from multiple locations or by a retailer/middleman who coordinates and distributes orders.
Box schemes founded on convenience and accessing a mass-market focus more on variety of produce and price, whereas those who have chosen a value-added point of difference, such as supporting local producers or organic, tend to focus more on transparency and seasonality.
Examples include:
Organic Empire sources 80% of their produce either from their own farm or from other growers in the Yarra Valley, with a small amount of produce sourced from the wholesale market. This is clearly marked when ordering so the customer can choose to only support local farmers or to go further afield for items such as bananas.
CERES Fair Food operates as a Food Hub with orders distributed via a box to a designated collection point or direct to people's homes.
Specialty Meal Boxes
There is an emerging network of box systems that provide meal-planned ingredients and recipes as a point of difference. This is pitched at encouraging greater consumption of fresh food, as well as reducing food waste and taking the effort out of planning meals. This requires a deeper level of planning and administration and thus can demand a higher price.
There are challenges around managing the packaging and providing diversity to encourage loyalty.
Examples include:
If you have questions or want to read more about buying groups, check out the Fair Food Forum. Under the Food Hubs category, you will find conversations around starting a box scheme, and administrative software for box schemes. 
This model can be implemented on the Open Food Network. To learn about setting up an online shop and using the OFN's administrative tools, check out our

 

user guide

 

or

 

email us.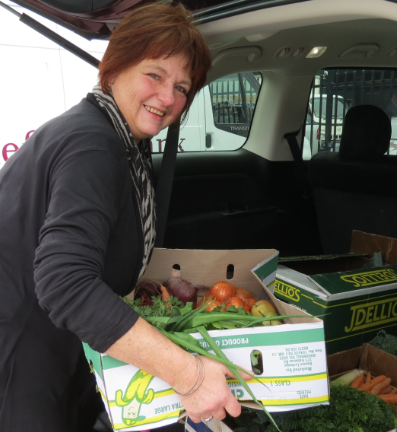 Can we help?
Have an idea, a project or a question? Want help using the Open Food Network software?  Get in touch and find out how we can help you with it.
Create a listing, shop or group directory on the Open Food Network. Tell me more!