The Open Food Network is often compared to a virtual farmers market and provides an easy-to-use software solution that farmers, producers and food hubs can use to sell fresh local produce online. This article is intended for enterprises who are looking to optimise their existing listing. If you don't have a listing yet – what are you waiting for?
It's easy to set up and won't cost you a thing until you've reached over $500 in sales per month. 
Over 10,000 consumers have brought fresh, local produce using the Open Food Network software platform. Understanding how they use the platform will help you to increase the chance that they will find your listing.
There are four ways that a consumer will find your store on the Open Food Network:
1.) They look on the map to find producers near them
2.) They use the Open Food Network's search function to either look up producers by name, or filter by the type of enterprise or particular properties of the enterprise (e.g. Organic).
3.) They search for the enterprise in a search engine, and the Open Food Network listing comes up.
4.) They engage with marketing from your enterprise.
Here are the things that your enterprise has control over:
1.) Make sure you are visible on the map
Many consumers find local producers by using the Open Food Network's map function. If you want them to find you, make sure that your enterprise is visible.
Making your enterprise visible is easy. In your organisation's primary details make sure that you select 'Public' (as shown in the screenshot below). You can find details on how to do this here.

2.) Appear when various search filters are used
Consumers can search the Open Food Network by:
Enterprise name or location
What the enterprise sells (e.g. Fruit, Meat & Fish, Drinks, Vegetables, Pickles & Preserves)
Delivery Type (Pickup and Delivery)
Property (e.g. Free Range, Organic, Biodynamic Chem-free, Plastic Free, Vegan, Vegetarian)
Appear in more searches through product categories and properties.
Every product you set up in the Open Food Network is linked to both a product category (e.g. Fruit, Vegetables, Meat & Fish) and a property.
When you add a new product to the Open Food Network, make sure you select the most appropriate category as this will increase your chances of getting found through our search.
You can find out more about product categories here.
There are multiple product categories available (e.g. Organic, Biodynamic, Gluten Free) that help consumers to buy food that aligns with their values or dietary requirements. When you add a new product to the Open Food Network platform, make sure you select an accurate product category.
You can also add as many different product categories as you like to your enterprise, and there are even different variants that you can use to accurately represent your business (e.g. Biodynamic – In Conversion).
Find out more about product properties here.
Let your customers know you deliver
Many consumers are interested in having produce delivered to them, so if this is an option, make sure you have selected this as an option in your shipping methods(see the screenshot below).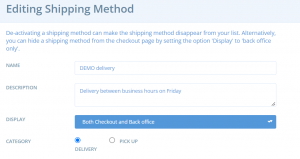 3.) Sell through a food hub
One of the most effective ways to improve the effectiveness of your Open Food Network listing is to sell your products through a food hub.
When you operate in this way, the Open Food Network platform acts as a virtual farmers market. You are in complete control of the products you sell, inventory levels and pricing. Hubs will typically charge a small fee to both you and the customer in exchange for managing the logistics of packing each individual customer order.
This is a fantastic way to find a new customer base.
You can find your closest food hub here.
Can we help?
Have an idea, a project or a question? Want help using the Open Food Network software?  Get in touch and find out how we can help you with it.
Create a listing, shop or group directory on the Open Food Network. Tell me more!

Read our Terms and conditions | Find us on GitHub
Open Food Network is a free and open source software platform. Our content is licensed with CC BY-SA 3.0 and our code with AGPL 3.
We take good care of your data. See our cookies policy
Open Food Network respectfully acknowledges the traditional custodians of the unceded lands on which we meet, work and live. We pay our respects to their Elders, past, present and emerging and acknowledge their deep spiritual relationship to country.