Big improvements to your shopfront
The latest release of the Open Food Network was deployed this week, and it includes some big changes to improve the performance of your shopfront behind the scenes.
Shopfronts with up to 10,000 products will load within 2 seconds. No more waiting… no matter how big or small your shopfront! Searching and filtering is super fast too.
Alongside this major performance improvement we've stripped back a lot of complexity. This means that some of the tiny and annoying bugs of the past – like prices not updating instantly or issues with the tagging functionality – have been fixed.
Behind the scenes we've also been making big changes to our API to improve the way Open Food Network can integrate with external systems. We've been rolling out performance improvements across the system including to reports and a number of the admin pages.
New order cycle page design
You'll notice the Order Cycles page now steps you through the process of creating an order cycle in three easy steps. This design changes makes it easier for you to switch between the General Setting, Incoming products, and Outgoing products tabs. 
Separating these pages out like this not only makes the process of setting up an order cycle clearer, it also speeds up load times (particularly for shops with thousands of products).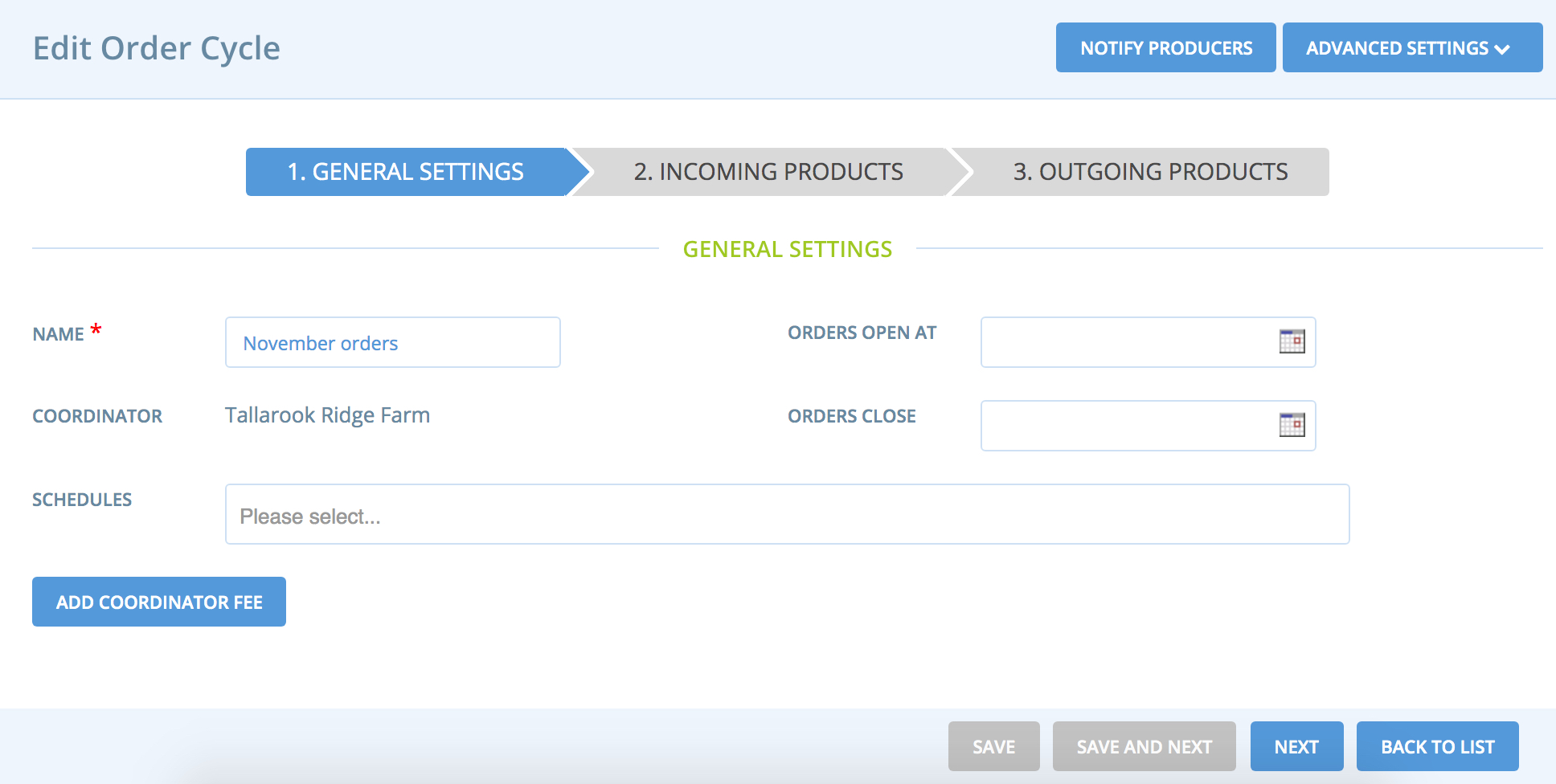 Small display improvements
October marked the annual Hacktoberfest, a month dedicated to open source code and growing contributors. The Open Food Network community have welcomed contributions from a number of new and experienced developers that have found us as part of Hacktoberfest events. You can thank these talented and committed folks for some small fixes that make the user interface easier to understand – including some red * to indicate required fields, some additional translation fields and some placeholder text. Thank you Hacktoberfest contributors!
Mobile shopping experience next focus
The next big focus for software development is the shopping experience on mobile. We know that this is a priority for many of you, and we can see that an increasing number of shoppers are using the platform from their phones. Stay tuned for those developments!
Integrating with accounting & email
We're almost ready to release new integrations with a number of accounting packages, and with mailing systems like Mailchimp. We're just finishing testing them, and determining pricing (they rely on a third party paid software, so won't be covered by platform fees) – we'll let you know as soon as they're ready.
Create a listing, shop or group directory on the Open Food Network. Tell me more!